If you are striving to create expert looking sketches, then acquiring the best accessories will help you achieve your artistic goals.
As a teacher for many years, I often had to order supplies on a small budget. I know from experience that buying cheap equipment in bulk doesn't always deliver value for money. Budget pencils lack endurance and will snap regularly when you sharpen them. This can be very frustrating when they end up being tossed away
In this article, I will explain why not to buy low-quality pencils, and how this will almost certainly end up affecting the quality of your drawing. I will also review what I believe to be the best drawing pencils on the market, and why you should consider using them.
Don't use Low-Quality Pencils
One of the main disadvantages of using cheap equipment is the impact it can have on your ability to produce quality line, shading, and tone. However, there are other reasons too, for example.
The main reasons for not buying low-quality pencils are:
Low durability
The break when you sharpen them
They are made from poor quality materials
They will not achieve good results
Wastage
Spending more on your basic drawing equipment can improve the quality of your drawing dramatically. High-quality equipment can make a real difference to your drawing.
How to Spot a Good Quality Pencil Set
The range of pencil grades is an important factor when selecting drawing equipment. This is especially important if you are looking to achieve contrast in your drawing with graduated tonal shading.
Additionally, having access to the full range of pencil grades will enable you to produce a variety of marks and lines. This will also help you create a subtler range of effects when drawing.  Most online buying want to purchase quality tools and materials, I have found that this is one of the main considerations of many online buyers.
Best Drawing Pencils by Brand
Firstly, why is the durability of a pencil is important? The best quality pencils comprise of a mixture of wax, oil, and graphite. If researching online, always try to read customer reviews when purchasing equipment online.
For example, it's wise to look out for how many customers experience breakage issues when sharpening on a particular brand.  Also, look for comments regarding the durability of a product and how long they last for. If a pencil is durable the amount of wastage will dramatically be cut down.
It's a good idea to consider which type of pencil suits your drawing style. If you are drawing highly detailed technical drawings, a harder pencil is needed. Also, if you require high contrast tone and graduated shading then a softer graphite pencil is best. The hardest grade pencil is the 9H and the softest grade pencil is the 9B. A good quality 9B grade soft pencil will guarantee no breakage issues and wastage.
The range and quality of pencil grades are important. If you are attempting to draw with a variety of lines. A soft 9B pencil will produce a very different type and strength of line than a 2H for example. Soft pencils produce darker lines and harder H pencils produce lighter lines.
The tactile feel of higher quality equipment is also noticeable if you are drawing with a high-quality pencil, the difference from the cheap throw away pencils is noticeable
When to use a Grade B pencil
When you want to achieve contrast in with your shading. A Charcoal pencil is also a good choice if you want to create black shadows.
If you need to produce darker lines.
Use an HB pencil for general writing or diagrams.
When to use a Grade H or an HB Pencil
Sketches and technical drawing and diagrams with fine lines.
When you need to produce a highly detailed drawing. A mechanical pencil is also a good option if you are completing diagrams.
Premium pencil brands you should consider using
Palomino Blackwing Drawing Pencils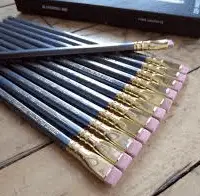 Why buy the Palomino Blackwing Drawing Pencil? If you are looking for a premium quality pencil, Palomino Blackwing is a trusted brand. There are three varieties of Blackwing pencils, the Regular Blackwing, the Blackwing Pearl and the Blackwing 602.
The Blackwing pencil is manufactured with a hexagonal barrel and a distinctive flat ferrule, with a detachable flat eraser. The pencil is longer than normal. Made will high quality California incense cedar wood. Palomino produces pencils sets in the full range of 17 pencils grades. They are a durable and hard-wearing product.
Characteristics of the Palomino Blackwing Pencils
Premium quality pencils
Made with high quality incensed cedarwood
Hexagonal barrel
Distinctive flat ferrules with flat eraser
Longer than typical pencils
The core is manufactured separately in Japan.
High quality lacquered finish with embossed logo
Tough and durable with a smooth quality finish
Palomino Blackwing Pencils – click the link to check price The Palomino Blackwing Pencil is similar in value and shade to the 4B regular pencil. It can produce, faint light lines if used with a limited amount of pressure. The regular Blackwing is an excellent art pencil, which can produce a rich dark line. It can be sharpened to an extremely fine point, which will not break under pressure.
The Blackwing Pearl (click link to check the price). This a slightly harder grade pencil which is comparable to a 3B grade pencil. Still capable of producing a darker line but is more durable than the regular Blackwing pencil and will stay sharper for longer.  This pencil is perfect for need a quality pencil for both drawing and writing with.
Blackwing 602 (click link to check the price). The hardest pencil in the Blackwing range this is a great pencil for writing with. This pencil is embossed with the original Blackwing motto 'Half the Pressure, Twice the Speed'. The Blackwing 602  has a hexagonal barrel with a pearlescent grey finish, with a gold ferrule and flat pink eraser.
All the pencils are coated with a lacquered coating and embossed logo, which means it will not fade over time.
The core of each pencil is produced using high-quality graphite lead which is manufactured separately in Japan. Japanese consumers prefer a softer and darker grade pencil. The core of Blackwing pencils is recognized as some of the highest quality smooth grade graphite, which does not compromise on strength or the durability of the pencil. Which means they will retain a sharp point for longer and not crumble.
Palomino Blackwing Long Point Pencil Sharpener
Sharpening a Palomino Blackwing is a two-step process. Blackwing Pencil Sharpener (link to check the price ), has been specially designed to sharpener the wooden cedarwood barrel first. The pencil lead core is then sharpened separately in a second hole, this results in a high sharpened point.  The is made with long-lasting, high carbon steel blades that will not rust.
The Kum sharpener also comes equipped with to separate blades, which can be screwed into places if required.
The Palominos pencil is probably the rated as the smoothest pencil graphite currently on the market. As there is no internationally standard of recognized pencil grades, different manufacturers tend to have their own grades of graphite which vary between different manufacturers.
Caran d'Ache Grafwood Graphite Pencils
If you a looking for another premium alternative. The Caran d'Ache Grafwood Graphite Pencils (link to check the price) are another high-quality product. A set of 15 pencils can set you back in the region of  $120 to  $150, although this could change. If the price of these pencils is an issue, but if you purchase this product you will receive a premium quality pencil.
Characteristics of Caran d'Ache Grafwood Graphite Pencils
Premium quality pencil
Color-coded graphite barrels
Lacquered finish
Highest graded cedar wood casing
Can be sharpened with ease
The hexagonal barrel which prevents slippage
High-quality smooth graphite finish
This is a premium brand of pencil, which stands out as the only color-coded graphite range. The graphite line of the Caran d'Ache Grafwood is an original concept, which makes it easy
Each grade of pencil from 6H to 9B is can easily be selected according to its shade of grey.
The barrel is finished off as you would expect from a premium product with a lacquered casing.
Made with a hexagonal barrel made with the highest quality grade cedar wood. The hexagonal design seeks to prevent the pencils from rolling off a drawing board or table and damaging the graphite core.
This is a pencil that can be sharpened to an exceptionally acute point, which is durable and makes the production of detailed technical drawings much easier. This smooth graphite core means that less pressure is required to produce a darker level of graduation, which will not smudge.