There are many artists out there creating amazing drawings in graphite. However, finding stimulus both as a professional and a beginner can sometimes be an issue. What follows is a list of 46 inspirational drawing ideas.

This list of basic graphite drawing techniques will list which will ensure you will learn the fundamentals and be capable of taking your drawing to the next level.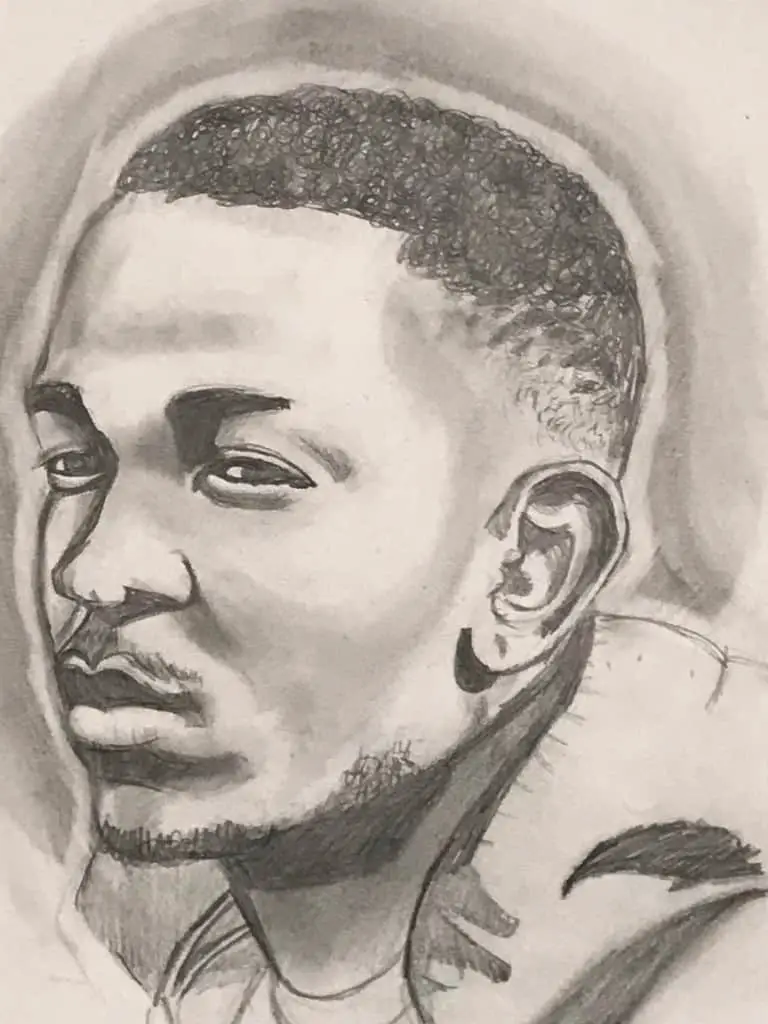 Draw Yourself
Self-portraiture is a traditional drawing technique that many artists enjoy. There are many examples of self-portraiture which can be described as expressive as well as realistic interpretations of the head and face.
One thing that you will need to is master is the proportions of the face and head, plus the representation of the individual features.
Draw a Member of Your Family
Once you become proficient at drawing portraits, you will probably want to consider which ones to draw. One idea is to draw somebody you know well, drawing a member of your family is one option that you may wish to do to challenge yourself.

Draw a Favorite Pet
Some people consider their pets to be part of the family, drawing a pet dog or cat can be a challenge. One of the main features that you will need to focus upon when during an animal such as a dog is the rendering of animal hair and the highlights and shadows that will form part of its surface.
Draw a Mask
One drawing challenge that you may want to undertake is to draw a mask. There are many different cultures where inspiration can be drawn from, for example, African tribal art, Oriental Opera Masks or the festival Day of the Dead.

Draw an Animal
One of the most popular subjects that many graphite artists choose to draw is Animals. Many dramatic choices can be made here. Birds, elephants, tigers, and dolphins are excellent subjects for drawing in graphite.

Draw a Reflection
Reflections can be a fantastic source of inspiration that can be seen on many different objects and such as windows, bottles, and water. One way you could approach the subject of reflections is to draw a close-up view, this can be achieved with a viewing frame or a magnifying glass which will help you focus on the details.

Draw Scenery
The landscape or urban landscape is one of the main traditions within the art. This is a which is accessible to most people even if you live in the center of a busy city. My advice is to look for exciting viewpoints to create a dramatic view.

Draw Something That You Miss
This is an unusual topic to convey in graphite which can be tackled in many ways.  This could mean a drawing of somebody you miss or a representation of a past experience or place.
Draw Something you Like
Again this is a starting point which can be interpreted in many different ways, a favorite person, inspiration figure or slightly more important draw to your favorite piece of music.
Draw An Old Chair
This starting point makes me immediately think of Van Gogh's painting of a chair, and it is this approach of drawing that l believe you can take on board here. Take any ordinary mundane everyday object and transform it into a piece of art.

Just Doodle
Doodles are a great way to create unique and artistic drawings that represent nothing but themselves. One technique is to take an original doodle and transform it a finished picture using the  Zentangle method. This is an excellent way to get children involved in drawing. See my recent post, Easy step by step Zentangles for children.

Draw An Imaginary Friend
Exploring the power of your imagination is an excellent way to produce imaginary portraits, portraits from memory, or entirely original representations of people that you have never met. One good way to explore this idea is by drawing the description of a character from a book and attempting to draw a likeness.

Draw a Dinosaur
Dinosaurs offer great inspiration, especially for children. There are many techniques that you can use to draw a dinosaur. Creating a close-up view fo a dinosaur is one option that you can explore to focus on the face the surface details and patterns that make up a dinosaur.
Alternatively, another approach is to reduce the formation of the dinosaur right down to its basic shapes and draw the whole of the creature.

Draw a Superhero
As a teacher, this is a topic which many young students have enjoyed to draw over the years. Again the focus could be on producing close up portrait of a character and attempting to capture the expressions and details of the superhero.
Draw a Supervillain
Again, I would focus upon really trying to portray the character of the individual supervillain.

A good that you could try drawings are the Joker or the Hulk. Both characters have very expressive features with make during them very interesting.
Draw From a Photograph
Taking photographs of a subject in my view can never replace the experience of drawing your subject from direct observation.

But for particular subjects, it's just not possible to draw directly from observation. So if you wish to produce a drawing of a tigers head, you will need to work directly from a secondary source.
Draw an Eye
The drawing of eyes is extremely popular, and people enjoy producing highly detailed representations of the eye.

When drawing the eyes, it's a good idea to reduce the formation of the eye down to its essential components and progressively add detail to the main areas.

Draw an Eye from the Side
Once you have become skilled at drawing the eye from the front, progress onto drawing a profile view of the eye. To do this successfully, you will need to observe the difference in shape and form.

Draw a Robot
Drawing robots is a task which I know from experience can keep children engaged for hours. This is a subject which can be developed in many ways from simple basic robots drawn from basic shapes to the highly detailed drawing of robotic arms and creatures.

Draw Your Name
Your name can be drawn and developed into a beautiful logo that can be used to label a room or personal space. Drawing in a graffiti style is also an option which I have found many people enjoy. I see that drawing with fast-flowing lines is an excellent way to create exciting shapes that can be broken up into smaller letters. Bold outlines, tone or color can be added to enhance and improve the decorative look of your logo.

Draw a Portrait of a Famous Person
Drawing a portrait of a famous icon is an excellent way to improve your portrait drawing skills. We have all seen famous portraits of Marylin Monroe and James Dean. So choose a famous person you admire and complete a picture, you can also try interpreting the portrait style of a Pop Artists or Van Gogh.

Design A Tattoo
This is a small design task which can be developed in some ways. First, begin with a few small thumbnail sketches of possible ideas for your tattoo.  Think about the types of ideas you would like you to elaborate on, it could take the form of a sign, hero or a favorite animal for example. Progress onto developing your idea into a larger drawing.

Draw a Piece of Cake
Cakes weather sliced or in cupcake form are really great for creating a beautiful drawing which can be developed into further artwork.
Draw a Tiger Using a Grid
The grid method is a technique which many artists use to help them produce drawings of creatures or living things.
It basically helps them draw objects in proportion, by assisting them in locating specific features correctly. If you are drawing a tigers head, for example, it is essential to get the elements outlined in the right place.

Draw a Piece of Cake
Drawings of cupcakes, in particular, can be developed in different ways, for example, drawing the cake with a focus on shade and tint or developing your drawing into a simple paper collage a create beautiful artwork.
Draw a View Through a Window
Many artists have chosen to develop the scenic view through a window as a subject to draw. This can be tackled either through drawing the window and the view as it is seen through it.

How to Draw a Tree
If you are looking to create drawings that will capture peoples attention, then drawing of a tree from direct observation undoubtedly worth a try. A lot of people become confused when trying to figure out how to begin drawing a tree.

Drawing a View From the Garden
Images of nature such as flowers, trees, and plant life are excellent sources of inspiration. They are also suitable for trying different drawing techniques such as blind drawing or opposite hand drawings. For more information about this read my post, Experimental Drawing Techniques.
Design a Logo
On face value, this seems like quite a basic task. If you are unsure how to create your own unique design, find a logo you like and change and adapt its design into your own original drawing.
Draw Some Sweets
The drawing of sweets can be treated similarly to that of drawing cupcakes. However, this time try drawing it with a focus on the wrappers and logos, that can be associated with sweets.
Draw a Musical Instrument
Many artists have developed drawings and artwork in response to the subject of music or musical instruments. Picasso and the Cubists are an excellent example of how different types of instruments can be combined to create exciting compositions when they are arranged next to each other or overlapped.
Draw a Hand
If there is one part of the human anatomy that people struggle with when drawing it is hands. The most straightforward approach is to reduce the hand down to its simplest structure and analyzing the dimensions and spatial relationships of the various parts of the hand. If you can learn to draw the hand successfully from observation, then you will be capable of tackling any other subject with ease.

Draw a Sunset
Climactic sunsets can make new tonal drawings which can be developed by utilizing the techniques of Aerial or Atmospheric perspective. Seascapes are a good example where evenings can be rendered to produce impressions on the surface of the water with tonal shading and drawing.
Draw a Bird
This is a favorite subject for many graphite artists with birds of prey being a particular favorite. Possibilities could include a close up drawing of the head of a bird. Or a more difficult option would be to draw a bird in flight.  

The proportions of birds can be an issue, so as with many difficult subjects you should reduce the drawing down to its basic shapes and
Draw a Caricature of Someone You Know
The drawing of caricatures is a specialty that some individuals can excel into a high degree. Capturing the dramatic appearance of a person in a few pencil strokes is grift few people master.
Draw an Optical Illusion
Many examples of drawing optical illusions can be found on youtube.  Realistic looking drawings can be created by combining the effects of perspective and tonal shading to develop drawings of shapes which appear to be floating in space.
These drawings can be taken a stage further with mobile digital technology. By taking photographs of your drawing at acute angles, the shapes will begin to appear to float in space. Have a go.

Draw a Stained Glass Window
Stained glass windows can be an excellent source of inspiration for creating decorative designs on paper.

The artist Marc Chagall is an excellent example of an artist who has created colorful designs on glass. Almost any subject can be simplified and developed in a drawn design.
Drawing Fireworks
This is a topical theme which can be created in oil pastel or chalks. These drawings are best drawn as dramatic, exciting designs in the night sky.

One option is to draw onto black paper, which will allow you drawings to have more of an impact.

Draw a Ship
A ship is a subject which can be drawn as a basic line drawing, or as a highly detailed historical representation or illustration. One approach could be to draw an old ocean liner, the type which use to transport people across the ocean. The details of each individual ship could be added to the drawing as you build up a collection.
Draw a Horse
If you are interested in drawing horses, there are many methods you could try. One way is to produce a drawing of moving horses. This subject could be drawn realistically or in a semi-abstract way using divisionist techniques. In fact, a series of drawing could be produced using this technique.
Draw a Diamond
A diamond is an excellent subject for the drawing of close up viewpoints from which the details, reflections, and tone can be rendered in detail. Focus upon looking at and observing the surface of the stone, and the representation of light and shadows which drawing. This would make an excellent subject to draw.
Draw a Waterfall
Moving water has always been a difficult subject to draw. The drawing of quickly drawn lines is an excellent way to suggest how speedily and rapidly water can flow from heights.

Both tone and shade can be used to depict the foam and splashing of water as it descends from above.
Draw a Storm
The energy and power of a storm could be an excellent subject to represent through a drawing. Probably the most straightforward approach to take is to draw the power of wind through its effects on the weather. For example, the clouds, sea or trees are all features which can be represented in a storm.

Another approach is to create a shaded drawing where the darker values are represented through the drawing of clouds and the sky.
Additional Questions
Create Drawings with Hatching
Many of the ideas listed in this post are suitable for drawing in graphite, plus pen and ink. In fact, many of the simplest ideas can quickly be drawn using this method.
Repeatedly Draw the Same Idea
If you find drawing a particular subject difficult, for example, the drawing of hands. Then you could attempt to draw it repeatedly say thirty times. Focus upon improving the part of the drawing which is holding you back. For example, proportions or shading. Read my post, I Often Should you Practice Drawing.
Uneven Hatching Techniques
This is a technique which when you have mastered hatching and cross-hatching, you should attempt. It works particularly well will be drawing of natural forms such as trees or shells.
Stippling with a Graphite Pencil
Stippling is another way of adding and building up areas of tone and value in your drawings. To add more variety to your drawings you should attempt this technique.

The difference between Lead and Graphite Pencils?
There is no lead in modern graphite pencils, the core of a modern pencil is made from a nontoxic mineral called graphite. Lead pencil contains graphite, which is a form of carbon, not lead.
Conclusion
I hope you have enjoyed reading this post, as with all my posts on improvedrawing.com,
please feel free to make a contribution by making a comment in the box below. For further information please visit my Resources Page.