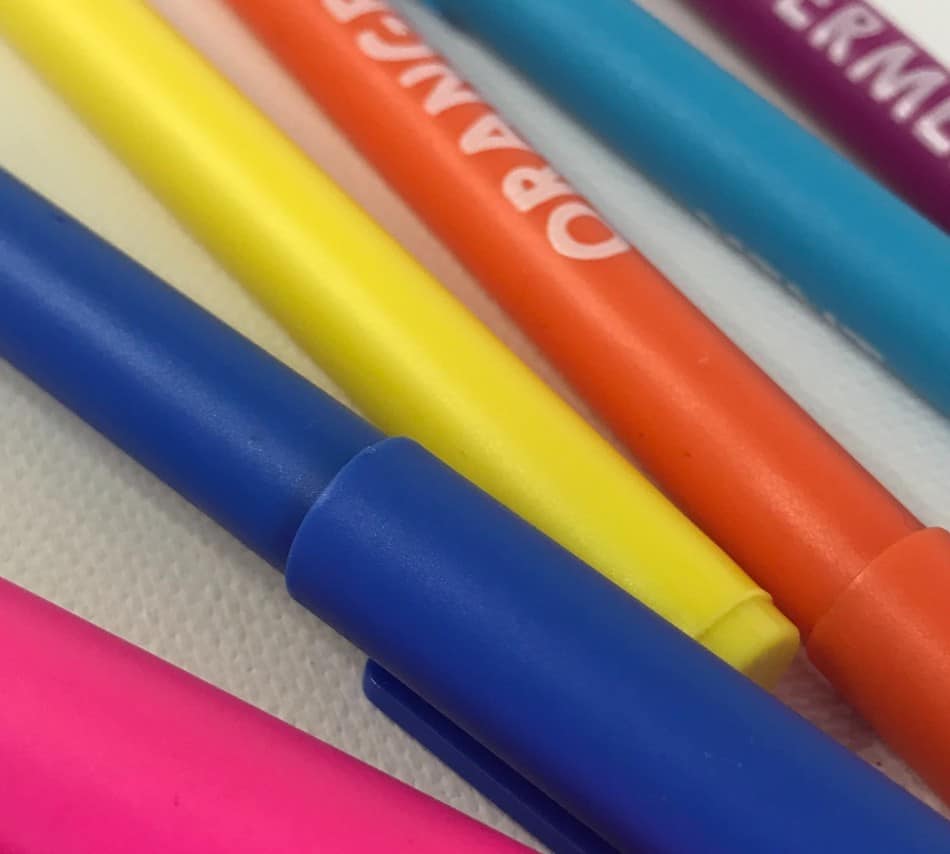 Water-based markers have a significant appeal in all forms of painting and decorations. Alcohol-based makers may be dominant, but both beginners and veteran painters that want versatility and cost-savings often turn to water-based makers. They are easier to work with. You can even use them with alcohol markers. And they cost far less.
Recent Related Posts 
What are Water-Based Markers?
Alcohol markers use an alcohol solution for the colors in ink, while water-based markers use water. Sometimes the solution is a mixture of water and glycerin.
The Main Difference
Water-based markers use a water solution. Alcohol markers utilize an alcohol solution.
Alcohol markers have dye ink. With a water-based marker, dye selection is limited.
Also, you are more likely to get streaks and lines in your outlines with water-based makers. This is because alcohol vanishes when applied and doesn't react with the paper.
There is the risk of paper tearing with water-based markers. There is little chance of the paper tearing when working with alcohol-based markers.
Please look at this drawing and sketching video course I have created. Use this link.
Using Water-Based Markers on Canvas
Despite alcohol-based markers being more popular, water-based markers are as yet as highly usable on canvas. However, there's a significant distinction between the kinds of individuals utilizing each. Beginners generally use Water-based markers.
It works well for students. That's on the account that these creations are washable, and the markers are straightforward to use. Additionally, as they're so cost-effective, they can be an excellent option to help kids nurture their talents before they graduate to the alcohol-based markers.
Water-based markers are opaque. They can be used on canvas singly or in combination with alcohol-based markers. These markers work well on canvasses that have been gessoed. This is a priming technique that makes the canvas stiffer and textured enough to accept watercolor paint.
Also, it would be best to use water-based markers on a dedicated water-based canvas. These canvasses lead to authentic and skillful art pieces.
Watercolor canvases are an innovation, and they are ideal for specialists who like the look of water-based colors on canvas. You can get the watercolor canvas in a few unique designs, including extended canvas, canvas pads, and canvas boards.
Using a Watercolor Canvas
Painting on watercolor canvas works a little differently than standard paper. The watercolors will remain wet for longer on the watercolor canvas than they do on watercolor paper. The surface is just not as porous as watercolor paper.
To benefit from watercolor canvas, you should make your first work of art on watercolor canvas an analysis. This allows you to try out various strategies and observe how the watercolors respond to the canvas. This can spare you from making costly errors when you finally get down to business on watercolor canvas.
Can You Use Regular Markers on Canvas?
Yes. Indeed, you can. There are different paints for you to browse, yet the best markers to use on canvas are acrylic or oil-based paints. These paints are exceptionally dark and adequately thick to be effective on surfaces like a canvas.
Regular markers can be used on a variety of surfaces from glass to fabrics, ceramic and canvas. This versatility, in contrast to watercolor markers, makes a craftsman's job easier. Regular markers lead to better proficiency when creating paint pen art pieces.
Which Water-Based Pens are Suitable for Canvas?
Artistro Acrylic Paint Markers Medium Tip
The acrylic paint marker is a water-based marker that works effectively on canvas with assurances on flexibility to execution. The Artistro marker can additionally be used on other surfaces from ceramic to rocks and fabric. Any painting made on any surface stays for long.
The resultant art creations are moderately resistant to scratching. The colors dry quickly, making it possible] to keep painting without downtimes. The medium tips are the ideal size for any work of art. Big tips can be challenging to control, while small ones can take painstakingly longer to paint with.
Brite Crown Water Color Brush Pen
These markers that are usable on canvas are known for their adaptability regarding the application. They are incredible, nicely absorbed, and can remain on for a long time once they have dried.
The medium tip offers a significant level of adaptability. It is anything but difficult to control and use for an assortment of techniques, including drawing, composing, and portraiting. The paints are free of unsafe synthetic substances. They have no orders.
An incredible thing about this set is that it is eco-friendly. If conservation matters most to you, you should give this marker unit a go.
Letraset Aqua Marker
You can use these markers in a wide range of canvases. They have a dual tip for versatility in fine and broad strokes during the painting process. The dyes are seamlessly absorbed on watercolor canvas as they are on standard canvas.
The colors blend well when exposed to water. With a degree of protection from scratches, the hues can stay unblemished for long. They are water-based, non-poisonous, and don't emanate a lot of smoke or scent. They are likewise ecofriendly.
Can you Use Micron Pens on Canvas?
Micron pens were made for paper. That being stated, individuals have been utilizing Microns effectively on a wide range of various surfaces. There is little guarantee that one can get good results when using micron pens on canvas. Test it first.
Consider using primers. The performance of micron pens on canvas can differ from one type of textured canvas to another. However, note that gesso and many other primers used on canvas can damage micron pen tips.
Can I Use Crayola Markers on Canvas?
Crayola markers are student grade, watercolor makers. They can be used on canvas, but performance varies considerably based on marker brands. Consider testing your marker first.
Crayola markers typically have inks and solutions meant for easy removal. Their quick-drying ink is easily blended, making it possible to come up with a variety of colors. Using Crayola markers on canvas can be an affordable way to sharpen one's skills in painting.
The Bottom Line
You can use water-based markers on canvas. The canvas just needs to be gessoed for assured best performance. You can alternatively work with special watercolor canvasses that come readily prepared for use with water-based makers.
Create Art With My Favourite Drawing Resources
General Drawing Courses. I like Udemy if you want to develop your knowledge of drawing techniques. Udemy is an excellent choice due to its wide range of creative courses and excellent refund policy. They often have monthly discounts for new customers, which you can check here. Use my link.
Sketching and Collage. Take a look at this sketching resource I have created. Use this link.
Proko. Is one of my favorite teachers who surpasses in the teaching of Anatomy and Figure drawing. Prokos course breaks down the drawing of the human body into easy-to-follow components aiding the beginner to make rapid progress. For this, I really like Proko.
Art Easels. One of my favorite ways to draw is by using a drawing easel, which develops the skill of drawing on a vertical surface. The H frame easel is an excellent vertical way to add variety to the style and type of marks you create when using a drawing board.
To see all of my most up-to-date recommendations, check out this resource I made for you.