Whether you are a professional or an aspiring artist, you already know that you need to practice more to reach your peak potential. Regardless of how advanced you are in your art practice or what form your creativity in art takes, your work will only improve if you consistently draw. Simply put, drawing is the mother of art! Whether you are a dedicated cake decorator, a painting enthusiast, an art journalist, or a jewelry maker, drawing correctly will make your work better.
Most artists, especially beginners, don't always want to hear being told to draw more. After all, it is somehow to have your loved one ask you to work out or meditate more. Most people would like to paint, perhaps because painting is deemed to be somewhat more sensual, ecstatic, and enjoyable. It is also straightforward to get away with many sins with paint. However, it is almost impossible to do so when it comes to drawing, and this is why you need to practice more because it creates proficiency.
So, Why Should You Buy an Online Pencil Drawing Course?
If you want to learn how to draw better, one of the most affordable yet effective ways to become proficient is to take an online drawing course. There are potentially endless reasons why you would want to enroll in an online drawing class. Read my detailed post about the Best Online Drawing Courses of 2023.
Taking an online drawing course is a fantastic way to learn and master new illustration techniques at a low cost or for free. Even if you are an established artist, there are many high-level online courses for those looking to learn about new digital illustration methods or fine-tune specific drawing skills.
If you want a career in drawing, online tutorials and courses can look great on your resume. Employers are always looking for people who are dedicated to their profession. And if you can prove that you continuously update your knowledge and skills, you can easily land a new job or even earn a promotion in your current position.
As an art, drawing can also help significantly lower your stress levels. Drawing is a great way to take a break from your busy schedule and recharge your batteries. A recent study revealed that taking part in any creative activity for at least thirty minutes may help reduce stress levels in your body, regardless of artistic experience or talent.
Moreover, taking a drawing class together will allow you to meet new people. Art reaches across religious barriers, racial stereotypes, socio-economic levels, and prejudices. It only implies that you'll have the opportunity to meet and interact with new people you otherwise may have never known. And the prospect of seeing other cultures' creative expression will make sure you are always connected and less isolated. These are just a few compelling reasons why you would want to take part in an online drawing class.
Today, several online drawing courses can help anybody hone his/her drawing skills. Even if you don't have a talent for drawing, these online classes can prove handy. With intensive drawing practice, you'll see a dramatic improvement in your ability to draw. However, with so many courses to choose from, finding the perfect online drawing course can sometimes be intimidating and daunting. As experts in the industry, we are always here to help. Today in this post, we will extensively review some of the best online pencil drawing classes. Peruse the article and get to know.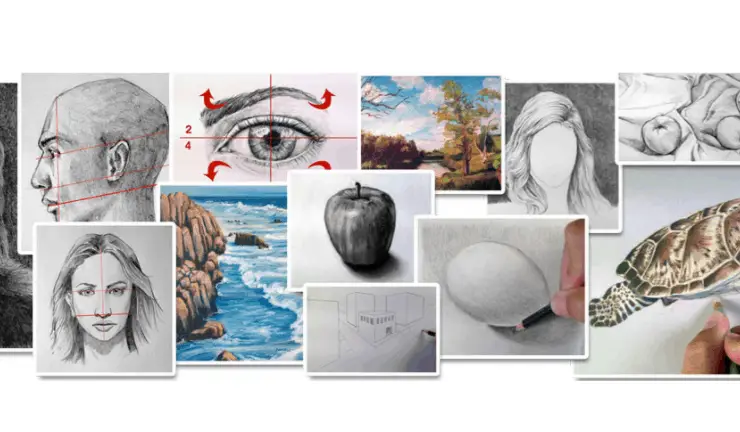 The secrets to drawing is a comprehensive online pencil drawing course typically designed to guide both absolute amateur artists and intermediate artists through the basics of drawing through concise and straightforward modules that include ebooks and videos. The course is packaged at a highly affordable price, so everyone can have an opportunity to learn. Click Here to Learn More About This Excellent Course. The Secrets to Drawing
Use this link to purchase at Udemy.
With this course, you don't need to have any prior knowledge of drawing. Drawing is a skill that can be learned and developed, and the secrets to drawing courses are specifically designed to offer you the knowledge necessary for you to draw better almost instantly. Regardless of your level of experience in drawing, you can learn and master how to draw after successfully completing this fantastic pencil drawing course. Every aspect of pencil drawing is broken down into easy-to-follow as well as easy-to-understand sections complete with commentary and demonstrations. What's more, every single lesson is presented in HD for enhanced clarity. In general, there are a total of 28 videos with over 500 minutes of drawing instruction.
Not everyone prefers to learn from watching videos. A large number of people would love to draw their knowledge from both videos and books, and this is the primary reason why this course incorporates the use of ebooks into its learning procedure. The secrets to drawing have been developed to help speed up your learning experience through its many different learning styles. Every course module includes an illustrated ebook that corresponds with the video, and every concept is precisely demonstrated and described in a separate ebook.
So what does this course include?
The first video is just an introduction to the secrets of drawing.
After the introduction, you'll explore the element of 'Line' where you will learn about the line as an element of drawing and its relationship to drawing. Essential concepts covered include blind contour, contour, line quality, and cross-contour lines.
The third clip talks about shape. In this section, you'll learn how shapes can be used to draw just about anything. It covers common drawing concepts such as geometric and organic shapes, using shapes to draw objects.
The fourth clip talks about form and entails how to create the illusion of form on two-dimensional surfaces. You'll cover important concepts such as turning shapes into forms and how to use shadow to further the illusion.
The fifth video is about the value and takes a look at the element of art, value as well as its relationship to drawing. Common concepts covered include shades, tints, shadows and highlights, and designing the illusion of a light source.
In the sixth video, you'll learn something about space. It shows you how to create the illusion of space on a two-dimensional surface. It covers drawing concepts such as overlapping, value, color, size, details, linear perspective, as well as placement on the paper.
The seventh video talks about a one-point perspective and covers concepts such as horizon line, vanishing point, and one-point perspective.
In the eight clip, you'll be taken through a two-point perspective, and you will learn about how to use this type of perspective to create the illusion of space in a drawing. It covers concepts such as vanishing points and horizon lines.
The ninth video is about a three-point perspective and covers concepts such as vanishing points and horizon lines.
The tenth clip is about mastering drawing techniques. Concepts covered include blending, cross-hatching, hatching, medium, stippling, random lines, and rendering.
The eleventh video is all about drawing from life and covers key concepts such as still life lighting, sighting techniques, and using a viewfinder.
The 12th video is about drawing from photos and teaches you everything you need to know about drawing realistic drawings from photographs. It covers concepts such as photo editing, cropping photos, grid creation, and drawing with the aid of the grid.
The 13th lesson is about composition and talks about how to create successful compositions in drawings. It covers concepts such as sketching thumbnails, negative and positive space, the rule of thirds, Plato's rule, the Golden Mean, eye movement, and how to create focal points.
In the 14th video, you'll be taken through graphite drawing. Concepts explored include graphite forms, characteristics, grades, and techniques.
The next video is about charcoal, and it looks at charcoal as a drawing medium and covers concepts such as charcoal applications and forms.
In the 16th video, you'll explore the drawing medium of ink. Common concepts include ink wash, selecting the right ink, pen, and ink applications with a nib pen.
The 17th clip talks about color and discusses the three parts of color theory as well as how it influences color choices in drawings.
The 18th video is about colored pencils and everything you need to know about them. Key concepts include mixing, layering, building up colors, adding details, and burnishing.
The 19th clip covers oil pastels and covers layering, landscape drawing with oil pastels, and mixing.
The 20th video is about soft pastels, and you'll have an in-depth discussion about the use of soft pastels in creating a seascape. Concepts covered include the correct use of soft pastels, including layering and smudging colors.
The 21st clip is about facial proportions and discusses important drawing concepts such as general locations of facial features and placement relationships.
The next video is all about the eye and involves an in-depth look at how to draw a human eye.
The 23rd clip talks about the nose and the mouth.
The 24th video is about drawing the human ear.
The 26th video is about basic figure drawing and includes a simple four-step procedure for drawing a figure.
The next video is about foreshortening or drawing the figure in perspective.
The last section is a detailed review of the entire course and a plan for moving forward.
Proko: Pencil Drawing Lessons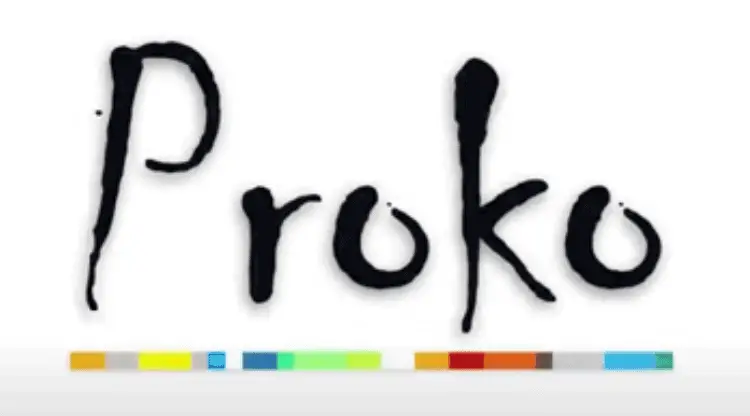 This is another fantastic pencil drawing course worth your attention and time. Stan Prokopenko is a highly experienced San Diego-based artist who is a former student and teacher at the Watts Atelier. Stan started posting short drawing clips on his YouTube channel that demonstrated how to draw the human head using a similar method to Loomis Andrew. To read my detailed post: Is Proko Worth it?
The channel quickly gained popularity and has since developed into an extensive online learning resource for aspiring and established artists who want to study figure drawing. Click Here to View Proko: Art Course Package Deals
Certain things set Proko apart from similar online drawing instruction videos. One of the objectives of Proko is to make your entire learning process fun and enjoyable, and this is usually reflected in the constant use of humor in his drawing videos. Proko boasts a great sense of humor and regularly peppers his videos with visual gags and jokes just to help lighten the mood. Moreover, every single Proko video is usually set against a blank white backdrop to minimize distractions as much as possible. Animations, graphics as well as drawing demos are frequently used to demonstrate key concepts, and the clips are scripted to keep them concise.
It is worth mentioning that Proko drawing videos are divided into Freemium and Premium. The freemium videos are samples that offer just enough to make you interested. On the other hand, the premium courses are what you need to purchase when you are ready to delve deeper into the drawing.
Currently, there are four premium courses offered on Proko, which we will discuss in detail. After purchasing any premium courses, you will be given access to the course dashboard on the official Proko website. You'll now be able to either stream or download the course materials at your own convenient time. Each clip is presented in 720p, guaranteeing enough resolution to see all the essential details. It is also important to mention that the premium courses usually expand upon the freemium versions, typically in the form of extended demos and lessons.
Figure Drawing Fundamentals: This course addresses the subject in a highly structural manner, employing gestures and simplified forms to describe the human body. The sole purpose of this course is to simplify the figure into its most basic components, which you can then build upon until you can execute a highly rendered drawing. While there are many chapters in this particular section, much emphasis is put on gesture because it is one of those concepts that is pretty easy to understand but very hard to execute. A good gesture drawing captures the importance of the pose with the slightest amount of marks possible. In total, there are thirteen chapters, and learners are highly encouraged to go through all of them, mainly because each one builds on the previous ones. Click Here to Visit Proko: Figure Drawing Fundamentals
Portrait Drawing Fundamentals: In this course, Stan demonstrates a practical approach to drawing the human portrait from any angle. After that, you'll then study the anatomy of the eyes, nose, lips, and ears. All this information is presented in a highly entertaining manner to ensure you remain engaged, focused, and always willing to re-watch the lessons. The lesson includes two full-length, real-time demonstrations regarding how to take a portrait from start to finish. What's more, users will have access to rotating 3D models that they can use to practice and study from. Click Here to Find Out More at Proko: Portrait Drawing Course:
Anatomy: Every pro artist out there will tell you that without an understanding of anatomy, your drawings will never be perfect. In this course, you'll learn about the structure of the skeleton, its joints, and landmarks to help you draw the body in motion. You'll also learn something about simple forms, tracking muscles, layering, cross-sections, body variation, function, and idealization. Notable features of this course include extended lessons, demos, and examples, ebooks, 3D models, assignments, and answers as well as critique videos. Click Here to Visit Proko: Anatomy for Artists
Art of caricature with Court Jones: During the first part of this course, you'll be taken through the core caricature concepts. You'll use concepts such as abstraction and exaggeration to take a rough sketch to a highly developed caricature drawing. The second part of this course will help boost your caricature muscles. In general, you'll cover important drawing concepts such as exaggeration, rough sketching, memory sketching, caricaturing the body, REILLY abstraction, final shaded drawing, opposition sketching, digital paint sketching, spirit animal as well as conscious shape design. Click Here to Find Out More At Proko: Caricature Drawing Course
In summary, Proko is a fantastic pencil drawing course that should supplement your online drawing curriculum. It is very affordable, accessible, and very comprehensive.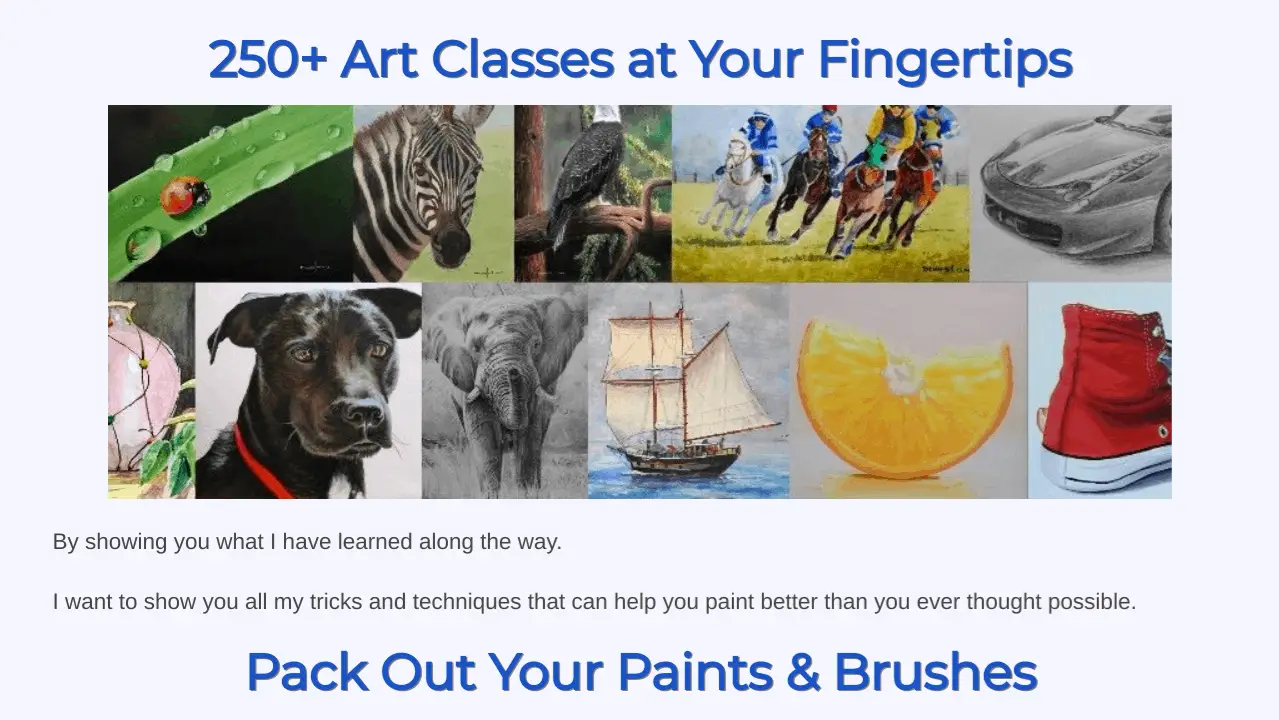 If you are an aspiring artist, this is another course you would want to take part in. The creator, Nolan Clark, is an established artist who, during his early years, thought that one could never draw if he/she was not gifted with the ability. As you would expect, Nolan never attempted to draw while he was younger. However, later in his life, he was contemplating starting a business but couldn't find someone to help him design a logo for his company. The next thing Nolan knew is that he had not only successfully created his business logo, but was on his path to becoming an accomplished artist. Visit Nolan Clarks website to access this course.
Nolan was lucky enough to find a drawing instructor who inspired him and also mentored him to become an expert. However, before he could fully understand what drawing well entailed, Nolan realized that he wasn't always taking the time to appreciate his drawings. He explains that this is the main reason why he created a website to help other people realize their potential in drawing.
This course is designed for anyone who loves to draw. It is suited for beginners with a burning desire to create magic using their hands. While other online drawing courses require that you equip yourself with sophisticated drawing materials, this course only requires that you have simple items such as pencils, erasers, and a drawing paper!
Some of the notable benefits of this course include the opportunity to watch the lessons anywhere, anytime, and as many times as you would wish, the use of simple and plain English, thorough and detailed explanations, and the ability to access the lessons from nearly any device.
When you purchase this program, you'll enjoy a few extras such as:
Hyper-Realistic Drawing.
Clothing and Knitwear.
Realistic hands.
PDF and Reference Template.
Drawing Birds.
And after just four modules, you would have mastered critical pencil drawing principles such as texture, negative drawing, shading, and reflections.
Tutorials covered include:
The Eyes:
How to draw realistic eyes.
How to make the eyes gorgeous and wet.
Realistic eyelashes and eyebrows.
How to make the eyes seem like they have recessed inside the eye sockets?
You'll also understand how a single element fits together and impact each other.
How to draw the realistic nose:
You'll learn about reflections, little shadings, and how to make the nose look more realistic.
You'll also cover how to make the nose appear raised from the paper sheet.
You'll also get to understand all the angles and different shapes.
Drawing the realistic mouths:
This section will teach you everything you need to know about the mouth.
How to make the teeth look more realistic, including parched lips and how to make them look extra white.
How to correctly draw smiling, open, closed, and yawning teeth, among others.
How to draw different teeth reflections.
You will also be shown how to identify problem areas and tackle them.
Drawing the realistic ears:
In this section, you will get to know the six areas of the ear, how to draw these areas as well as how to make the ear look three-dimensional.
Drawing the chins, cheeks, necks, and foreheads:
This section covers how to draw the lines on the forehead, add dimples on the cheeks, and draw the neck correctly.
Drawing realistic hair:
It covers how to draw realistic hair, how show hair texture, show highlights, and create depth.
It also entails making different shades of hair color as well as how to draw different strands of hair.
Drawing realistic beards:
How to draw realistic beards, mustaches, short beards, long beards, as well as greybeards.
This is an excellent online pencil drawing course worth your effort. It is very affordable and promises to help you gain more confidence in your drawing ability.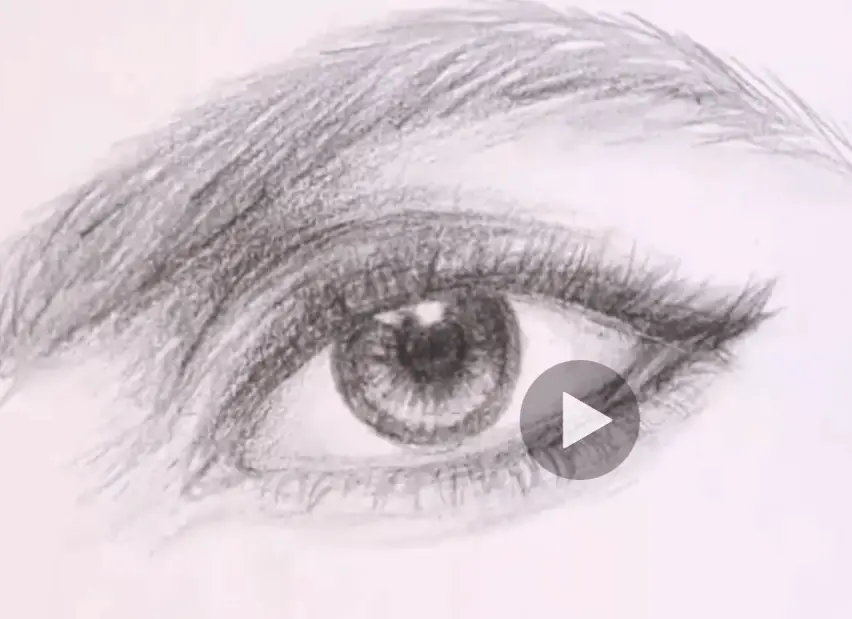 This is a straightforward but highly comprehensive course that includes nearly everything you need to become a top-notch artist. Just as the name suggests, you don't need to have any experience in drawing. You only need to grab your pencil, eraser, sharpener, sketchbook, and have the readiness to learn! The lessons are presented in an effortless way that nearly anyone can understand, no matter how amateur you are.  Visit Udemy The Ultimate Drawing Course for beginners – With Certificate
You will start by learning basic shapes and shading. You will also learn how to form shapes of primary lines, parts of the face, as well as how to draw the different types of eyes. The course also covers how to illustrate certain features of the face and how to determine the feelings of the face. It also captures the basis of the body drawing, different body positions, and different bodies. As the course gradually progresses, you will be taught how to draw any shape or any movement of the body. The course is so comprehensive that it also covers how to design fashion!
After this, you will be shown how to draw the still life, shading, how to draw different raw materials, details of nature including a drop of water, clouds, among other forms of nature. What's more, you will be taught how to draw a perspective simply and straightforwardly. Simply put, whatever you are looking for is available in this course. This course is taught by an established Syrian architect and artist, Manar, Mowaffak Ali. It is also an affordable course, and the package includes two downloadable resources, full-time access, access on TV and mobile, 8.5 hours on-demand clip, and a certificate of completion.
The primary objective of this particular online pencil drawing course is to offer guidance for arguably the most difficult tasks in the creative world; to define, describe and capture a living human being on a flat piece of paper in a compelling, meaningful, attractive and artistic way. In the art world, this whole process is described as a figure drawing.
This course is designed for anyone who has either previously attempted to draw the figure from life or has the passion and the motivation to face the task. This course is ideal for those willing to spend hours in front of a live model with the primary intention to achieve a level of quality and realism in their work. The course will cover the concept of gesture, construction, and the idea of making marks.
When it comes to making marks, you'll learn about the C-curves and the S-curves, as well as how to use them to start and build your drawing. In the concept of gesture or movement, you'll learn how to draw gesture lines from the legs to the body to the arm, from the head to the arm to the head and back. The purpose of construction is to help design the illusion of three-dimensional form. 
Because drawing surfaces such as paper are essentially flat, an artist must use the necessary tools and strategies to create an illusion of 3D form. Construction and form are among the primary tools you can use to create depth or 3D. The videos in this course were primarily designed to help aspiring artists practice figure drawing. Every single video has a different model session, where you will be shown diverse body poses. Overall, this is a beginner-friendly course worth your consideration.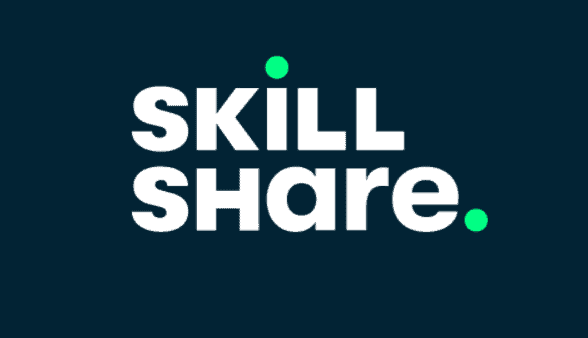 This is a drawing course for total beginners taught by a professional art tutor. In this course, you will be taught how to compose your own still life. You will be guided on how to select the right objects and how to arrange them as well as how to observe the composition. You'll also be taken through the whole process of measurement, finding standard units, and subsequently using them to keep the right proportions through the entire drawing experience. Click here to access more information about this course on Skillshare.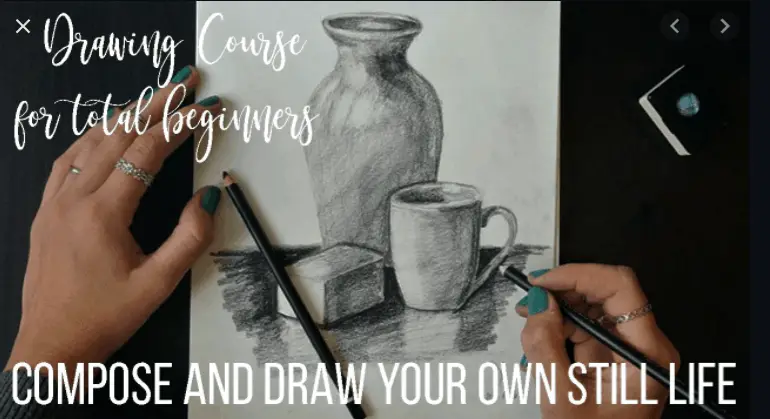 Related Posts:
Vilppu Academy Online Lectures and Demonstrations
If you were not aware, Vilppu Academy is the online version of the internationally recognized pencil drawing courses offered globally by the Vilppu Glenn at Game, Animation and Film studios and Universities, private Art Academies, and Art Schools. The drawing lessons provided here consist of lecture videos, demonstrations, examples, critiques as well as group discussion and the opportunity to get your answers directly from Vilppu. Each course is a sequential series of lessons build upon the other. There are comprehensive supplemental drawing materials available for every lesson from the website. This course covers nearly everything in the art world, including figure drawing, drawing essentials, clothed figure, animal drawing, head drawing, anatomy, composition, sketching, among others.
Rapidfireart
This is another excellent online drawing course suitable for both beginners and professional artists. Started with the primary objective to make pencil drawing a lot easier, this platform offers a tutorial series that focuses on learning the art from scratch. The artist, Darlene, provides five-level free lessons tailored toward empowering aspiring artists to reach their full potential. Beginning with the basics, the course includes thorough tutorials for amateur artists to master a 3D perspective, linear perspective, shading forms, realistic sketching techniques, and a lot more. This platform also offers impressive online videos for future reference. While a considerable portion of this course is nearly free, the author also provides an exclusive paid access to those who have the interest to learn even further.
Domestika: Realistic Portrait with Graphite Pencil: Diego Catalan Amilivia:
Diego Catalan is an expert painter and professional cartoonist in artistic anatomy. In this particular course, he teaches his students how to make a realistic portrait in pencil using a model. He demonstrates a variety of technical concepts ranging from composition, the anatomy of the head, texturing, and modeling, among others, to help learners develop and make their realistic portraits with graphite. This post is the property of improvedrawing.com July 2020.
The course usually starts by Diego explaining his work, all the drawing materials you will need throughout the entire course, among other essentials. He will then discuss with you all the fundamentals of academic drawing, which will help you come up with the first sketch of your drawing. You'll also learn how to raise proportions of the face from a theoretical perspective before you progress on how to raise the scale and proportions of the portrait. After this, you will perform an analysis of the bone structure on the skull of your model and examine its muscle structure as well. Next, you will be shown how to detail facial features. Click to find out more about this course visit Domestika.
And once you have successfully drawn your portrait, you will immediately start applying shadows in two-dimensions. You'll then be taught everything you need to know about light and its properties before embarking on the modeling section, which will then help bring realistic volume to your portrait. You will finish by applying textures to your drawing, including pores, hair, and wrinkles, among others. As you can see, this is a very complete course that will potentially take your pencil drawing experience to a whole new level.
Sources:
https://www.domestika.org/en/courses/264-realistic-portrait-with-graphite-pencil
Whether you are a professional or an aspiring artist, you already know that you need to practice more for you to reach your peak potential. Regardless of how advanced you are in your art practice, or what form your creativity in art takes, your work will only improve if you consistently draw.