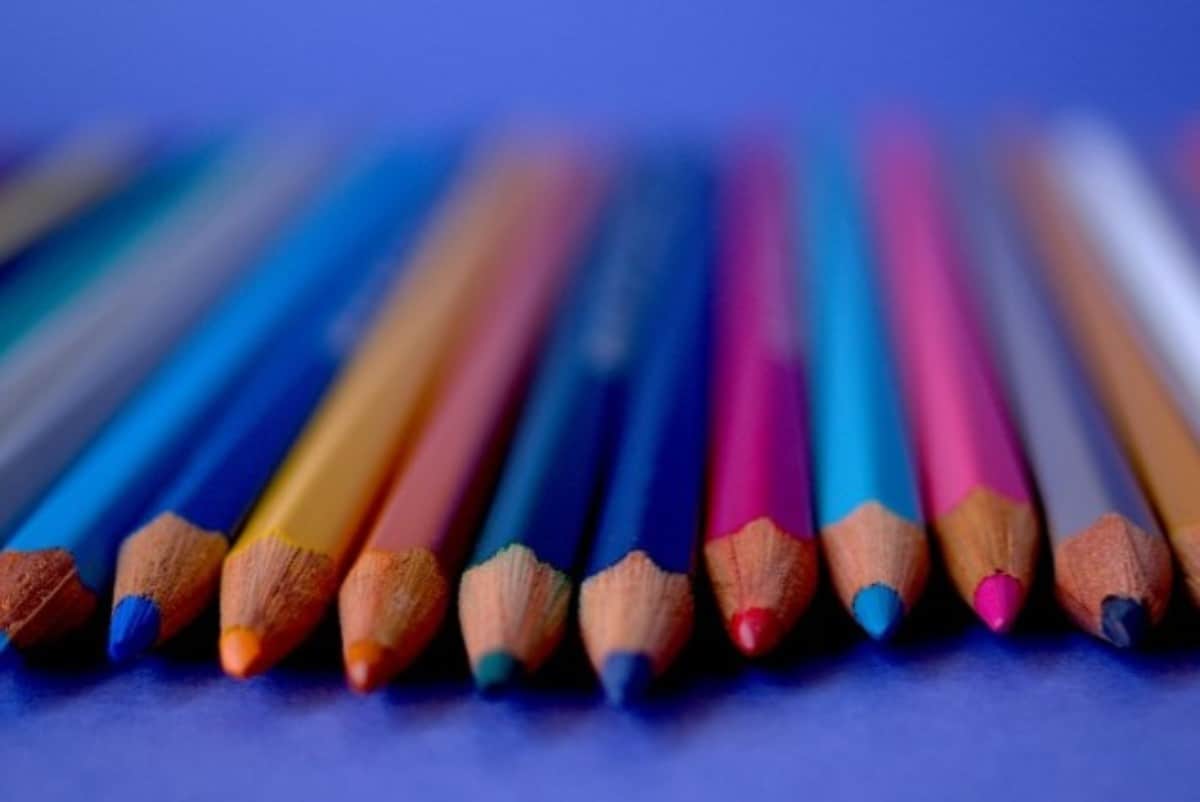 Reasons Why Colored Pencils Break Easily
When someone mentions colored pencils, you might think of regular blues or reds, though they are much more than that. They have tips which are bound with oil or wax-based substance to attach the color. However, today we`ll look at the reasons why they break easily, how to repair them, and also sharpen properly. Continue reading to find out:

Other Posts You May Be Interested in:
What Causes Frequent Breakage?
1. Stepping on or dropping them.
These two reasons are the most common causes of untimely demise. Once you drop or step on a colored pencil, it breaks in its core and, at times, even on its exterior. Even though most of them are constructed to survive being dropped, and at times it will dent the frame other than the core, it is always good not to drop them.

2. Wrong Storage
Storage is also essential when trying to avoid breakage of your colored pencils. If you have lots of colored pencils, and you have lost the case you bought them with, you should consider wrapping the pencils properly, and placing them in a shoebox and placing them in a safe place, where children cannot access them. Do not store them in an area that doesn`t have ventilation.

3. Not Sharpening them Properly
If you do not sharpen your colored pencils correctly, they will break eventually. Sharpening them correctly is an essential part of avoiding breakage. Kum Long Point Pencil Sharpener with Lead Pointer. This is an excellent sharpener which is well worth a try. Click here to see it on Amazon.
See How to Sharpen Your Pencil Correctly:
Knife
Utilizing a knife is a fast and easy way to sharpen your colored pencils, although the one drawback is that it is the most challenging option. Be cautious when using a knife and let the blade face away from you. Ensure you rotate the pencil, so you sharpen it evenly.

Sandpaper
The second way to sharpen your colored pencils that is appropriate is using sandpaper. They are exclusive sandpaper blocks designed made for artists, which are usually stacks of sandpaper stapled together on a piece of wood. 

These sharpeners are very convenient since you can carry them with you anywhere, and you need to tear off the top sheet after utilization for a fresh one. Make sure you rotate your pencil as you use the sandpaper surface, so it is equally sharpened.

Basic Sharpeners
Sharpeners are portable, small, and cheap. Use very little pressure when sharpening, since a lot of pressure might lead to breaking. It is easier to sharpen the colored pencil vertically other than horizontally.

If your pencil shavings are short pieces, the sharpener`s blade is not sharp enough. Ensure to have nice, long, and continuous shavings when you are sharpening. Some sharpeners have replaceable blades, but others, once the blade turns dull, you have to purchase a new one.

Electric sharpeners
This is not a good idea, though some colored pencils endure it and come out sharp.

Tips for making your colored pencils last longer:
· Avoid revealing them to direct sunlight for a long time

· Store in cool, dry places

· Always have unused colored pencils in their case. This will prevent them from being stepped on, and if they drop, they will not break.

· If you have not used them for a long time when you use them first sharpen them to reveal the fresh core

How to Repair the Fractured Leads
If you always sharpen your colored pencils and they frequently have the lead break, and even if you sharpen it again the lead continuously breaks until it is almost gone, this means that the lead inside the pencil is broken. And the good news is that you can fix it, here`s how:

a. Take a baking pan and cover it using an aluminum paper or baking paper

b. Place the colored pencils in a line, on the baking pan

c. Place the baking pan inside an unheated oven and set it to approximately 2500 F

d. Keep them there for 25.5 to 7.5 minutes. The timeline is different depending on the oven, how broken the leads are, and how close the tray is to the heating strips

e. After the time has passed, turn the heat off but still leave the pencils in it until it has cooled down to around 700 F

f. After some time, test the colored pencils by sharpening them, to check if the lead is good

g. If not, repeat this process from the beginning until they are good to use again.

This procedure will fix all kinds of colored pencils, even the wax-based colored pencils.

Note: Soft leads will melt quicker than pencils that have harder leads; thus, they will need a shorter timeline in the oven.

How to Store Colored Pencils Properly.
The best place for colored pencils is a cool, dry place with small humidity changes. Fortunately, most of the high-end brands are packed in well-sealed containers that fully block-out light from outside and most humidity changes. There have been situations where people have stored their colored pencils in their attics, and after a few years, they take them out, and they only need to be sharpened to expose the new core, since they are still in good shape.

Also, heat is not suitable for your colored pencils, especially direct sunlight. If they are revealed to sunlight for an extended period, it can light to minor fading on the exposed color and can at times slightly dry out the tip. 

This is not present in all colored pencils since some have a harder inner core while others have softer ones, but this is a small issue. This is not a big issue since many interiors do not deal with matters concerning high temperatures or direct sunlight. 

Avoid placing them close to the window that allows sunlight into the house during the summer, and warmer climates.

Final word
In summary, color pencils are usually relatively resilient, and they are debatably the longest-lasting of the most common art mediums. The blend of a hardcore shielded using a woody shell and the durable case they usually come in means that a dependable set should go for a long time.
My Top Five Pencil Sharpeners