Crayons aren't just for kids. Many professional artists use them, but usually on paper products. Some people who love to draw and wish to experiment on different media wonder if they can be used on canvas.
You can draw on canvas with crayons, but the result can be difficult to manage. As crayons are a waxy medium with a hard, dry consistency, the artwork would appear rough and patchy. Great, if that's what you planned. Otherwise, for crayons to work on canvas, you would have to change their density.
If, despite the limitations of crayons, you still want to use them to draw on canvas, continue reading for ideas on how to optimize this tool for use on fabric.
Realistic Expectations
Canvas has too strong of a weave to achieve a smooth application. You will get better results with crayons if you stick to a paper surface. Art teacher, author, and professional artist Anna M. Lewis claims crayon drawing works better on heavier poster boards or illustration boards. She also recommends yupo paper, a versatile synthetic paper that may work well with melted crayon art.
Traditionalists say oil pastels work better with canvas. They are more versatile compared to crayons if you consider the media aspect. Pastels work on almost any surface: board, wood, canvas, rock, paper, metal, or glass. Crayons excel mostly on paper. Oil pastels, however, though known as wax oil crayons, are not considered crayons in the traditional sense.
If you don't mind rough or indeterminate texture on your images and are willing to experiment with unconventional methods to manipulate the viscosity of crayons or smoothen the resulting artwork, then feel free to use crayons for drawing on cloth and other porous surfaces.
Advantages of Drawing With Crayons
Crayons trump pastels when it comes to detailed drawings because they have pointed tips and can stand alone without smudging or smearing.
Techniques for Optimizing Crayons on Canvas
Crayon art experts heat crayons before drawing on canvas or other surfaces made of cloth. Heating makes crayons soft and pliable. If melted down to liquid form, the resulting substance can be used for painting. You can also mix the liquidized crayon with various oils to make it more spreadable. For dazzling effects, layer different shades of the same color.
Draw First
Scientific/museum muralist and professional artist Lee Jamison suggests drawing on the canvas first before melting the wax with a heat gun or a hairdryer. He warns against scorching the fabric or having the wax catch fire.
Melt Crayons First
Shruti Bhat, the founder of Artsy Craftsy Mom, suggests three methods: 
Use a heat gun to melt crayon shavings made using a sharpener.
Break up crayons and melt them in muffin tins.
Melt crayons over the flame of candles.
Former architect and furniture designer Ana, host of Babble Dabble Do, recommends a silicone cupcake dish for melting crayons—useful as a safety measure for art projects by children.
You may choose to take the wrappers off or leave them on like what artist Kelsey Jeane did here with her melted crayon art accomplished with a hairdryer.
Artist Ken Forst recommends applying the crayon thickly to the canvas, then carefully using a hairdryer in small areas to soften and melt it. Spread, mix, and texturize the resulting wax while still warm using fingers or tools. He also suggests applying warm, uncolored beeswax over the artwork. Protect it by keeping it away from direct sunlight or other heat sources.
Jamison presents an alternative borrowed from the masters—melt some crayons and apply the wax with a painting knife. He said that, in the old days, Roman encaustic painters used a similar method.
Heat the Medium Instead
Jean Van't Hul, the author of the children's book, The Artful Parent, has a different take on melted crayon art. For one of her projects, she initially planned to put crayons in a hot glue gun and squirt the resulting mixture with it. She got this idea from Pinterest. When she carried it out, however, the result wasn't successful.
So instead of focusing on melting the crayons, she turned her attention to the medium. She placed canvas panels in the oven to heat them. She then drew on the panels with crayons, which melted as they came in contact with the hot surface. She kept returning the panels to the oven as needed (whenever they cooled down, the crayons stopped melting) until she finished drawing.
Another suggestion from Jamison is to lay the canvas flat, then shave bits of crayon onto it. Heat the canvas in an oven to about 150°F or 66°C (or just long enough to melt the crayon). Protect the bottom of the oven from paraffin drippings with a fire-safe material like aluminum foil. By doing this, you'll be sparing your oven from an awful lingering smell.
Blend Crayons With Oily Material
Artist, illustrator and art teacher Laura Pace explains that crayons are not ideal as a painting material due to their hard texture. So if you prefer painting than drawing, use them in a melted state by mixing them with molten wax and applying the resulting blend to a rigid support.
Karen Fulk, who studied Fine Arts at the University of California, Davis, suggests using turpentine or other oily media to swish around with crayons. An option would be to mix Caran d'Ache watercolor crayons with water before drawing.
Jamison suggests mixing melted crayons with a little drying oil, such as safflower or linseed. Experiment to check if this changes the crayon's working qualities. You may come up with a new texture that you like.
Experiment With Other Surfaces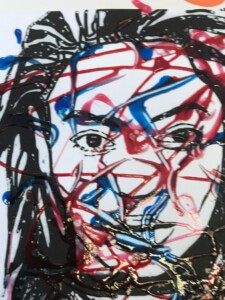 Jamison proposes an interesting way of working with crayons. Apply them to Plexiglas or a translucent petrochemical fabric used in modern sailcloths. You can then explore the effect of transmitted light on the translucency of the wax. He did something similar with acrylics in some of his work with museums.
Which Crayons to Use
Crayola loyalists can relive their childhood with the Crayola Ultimate Crayon Collection Coloring Set ($15). The package consists of one crayon sharpener, one portable caddy, and 152 non-toxic crayons, including the metallic and glittery kinds. 
Sick of Crayola? There are other brands, you know. Kokuyo Camlin, a leading stationery brand in India, sells crayons in a wide range of colors. Last year, they introduced Camel Child Grip Crayons, specially designed to improve toddlers' grip development and fine motor skills.
Non-toxic and CE-certified, these plastic crayons conform to child safety standards. As they are tough and do not easily break, they are highly recommended for young children. They can be sharpened safely and are erasable. They come in 24 shades and various pack sizes.
Serious artists use both children's crayons and professional ones. One of the most famous professional-grade crayon brands is Caran d'Ache. Its Neocolor II crayons are soft and smooth and produce thick, intense colors that can be mixed with water or blended with other colors. These top-of-the-line crayons are expensive at $24 for a box of 10 crayons. A 30-crayon set costs $70.
The Reeves brand is an affordable alternative at $5 to $12 a packet. Reeves Water Soluble Wax Pastels come in packages of 12, 24, and 48. Endowed with a soft texture and smooth, creamy consistency, these crayons come in a comprehensive range of vibrant, intense colors. Easy to blend, they can be used wet or dry. Mix them with water using a brush.
Conclusion
Museum expert Jamison advises that to develop competency with any medium, you have to approach it with an open mind. He encourages artists to experiment with various media. After they've mastered said media, they can choose how to make these their own.
Ultimately, no tool, method, or medium is right or wrong. What is effective for one artist may be inadequate for another. What turns out to be a mistake for you may be a stupendous discovery for someone else. So break from the fold, jump out of the proverbial box, and make art at your own volition.
Related Posts You May Want To Read:
Sources