Proko's courses are a great deal for those who want to learn how to draw! Not only do their prices measure up compared with other online services, but the quality of instruction is top-notch. 
If you're committed and passionate about improving your artistic skillset, investing in one of these fantastic classes will prove invaluable time after time!
Thankfully, the advent of the Internet has made it easy for aspiring or veteran artists to access valuable art resources that can help boost their expertise. Decide to invest in top-notch online tuition or training offered by leading artists. You'll soon find your potential as an artist improving by leaps and bounds!
However, with nearly endless online platforms, choosing the right place to learn new skills can sometimes take time and effort. This platform is just one of the many online resources where you can find lots of materials to take your drawing to the next level.  Click here to read my review of the Best Online Drawing Courses.
What is Proko, and What Does it Offer?
Proko is an online resource for artists who want to learn and enhance their skills with loads of art instruction videos. Created by Stan Prokopenko, a highly established and experienced teacher and artist.
Proko's tutorials make learning delightful thanks to their insightful sessions that motivate users to practice even more. You get lots of inspiration, and the most encouraging thing is that these tutorials are fun. You are always motivated to practice more and boost your skills.
The website gives you access to numerous online courses. The Portrait Drawing Course will show you an effective way of drawing the portrait from all angles. 
You'll then study the anatomy of the nose, eyes, ears, and lips.
This information is relayed in a highly entertaining way, keeping you engaged and motivated to re-watch the tutorials. 
The Figure Drawing Course complements your portraits. Here, you'll learn the basics of drawing the human body, using techniques such as shading to give volume and depth to your drawings and gesture to capture the body movement. Yes, these course is certainly good for beginners.
Suppose you are willing to delve deeper into the human body. In that case, you'll find the Anatomy of the Human Body Course helpful. You will understand how the human body structures muscle by muscle and bone by bone.
You'll get access to fully rotatable 3D models of the different body parts and have a better understanding of how the body functions. And if you are into caricature drawing, there is also a package for you.
These online courses are created to instruct and guide you during your learning journey, from instilling strong foundational skills to finding your voice in art.
So, who is Stan Prokopenko?
How to Study Anatomy Correctly – Construct the Human Body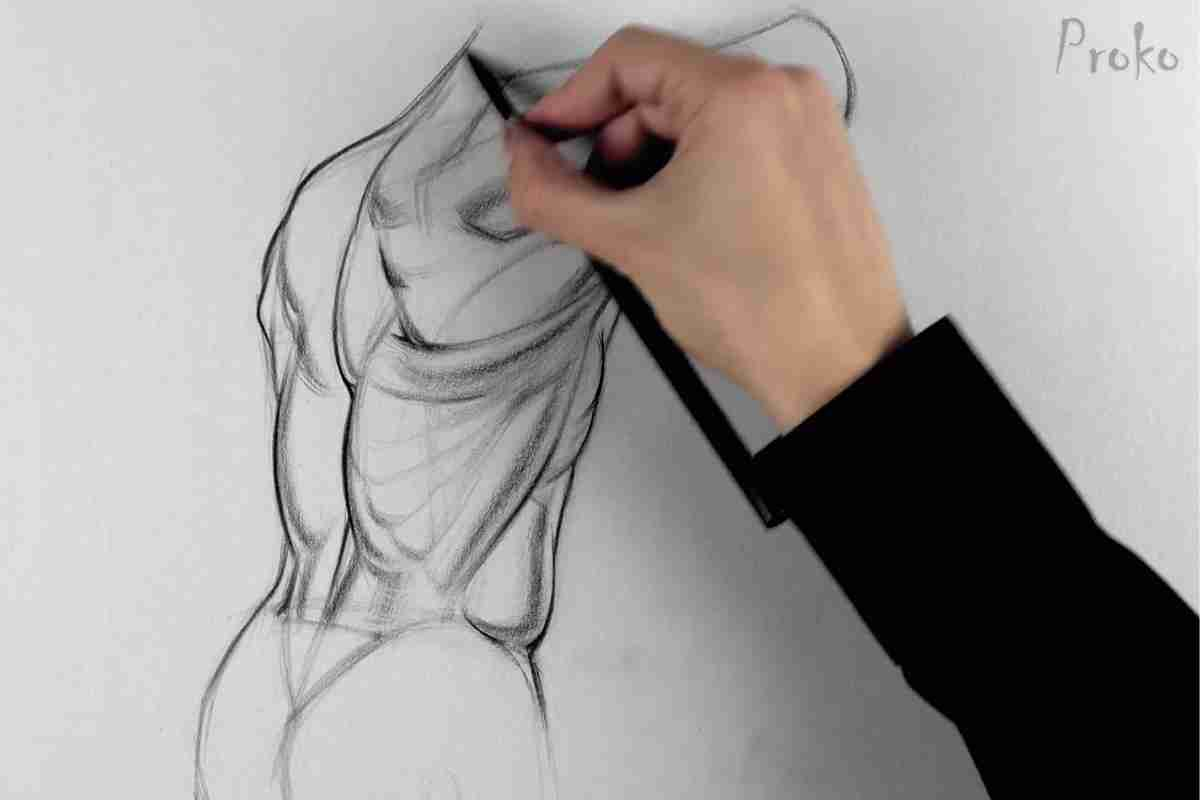 The author or creator's artistic expertise is the most crucial factor you'll want to consider when purchasing an online course or book. 
After all, why would you want to be mentored by someone who is not even prolific at whatever they teach?
Unfortunately, there are many unqualified or inexperienced artists in the art world. If you need to be keener, you risk being one of their clients!
Based in San Diego, Stan is a highly experienced artist and a former student and teacher at the Watts Atelier. 
This online-based platform teaches a classical method of realism for painting and drawing.
Stan began posting drawing tutorials on his YouTube channel ten years ago.
He demonstrated to his audience how to draw the head using the same technique Andrew Loomis used. 
Since then, his channel has grown into a highly extensive online learning resource for beginner and experienced artists who want to study figure drawing.
Stan regularly uploads shorter clipped versions of his tutorials for free on his YouTube channel. This is the freemium package where virtually everyone can watch some helpful content for free. However, you'll have to buy Stan's premium courses to access the full content.
One of its main objectives of Stan is to make your learning process fun and enjoyable, which is evident in Stan's quirky sense of humor in the clips. As an artist, Proko boasts a great sense of humor and often peppers his tutorials with visual gags and jokes to help enlighten the mood.
They are very entertaining yet educational. With Proko's drawing videos at your disposal, you'll always be energized. As a result, you will pay lots of attention, learn better, and retain lots of information. Your hunger to learn will only increase, leaving you more inspired and motivated to practice.
An Outline of Proko's Premium Drawing courses:
Free Videos Vs. Premium Courses. What is the Difference?
Freemium courses are accessible to anyone with an Internet connection. However, as previously mentioned, these courses are just a hint of what you'll get from premium courses. To be more precise, premium courses are extended versions of freemium videos, nearly three times longer. Usually, they include critique clips and additional examples of each lesson.
Notably, premium versions are intended to give users a detailed understanding of a given drawing subject.
While there are many free YouTube videos, they only feature some of the extra features of the premium courses. Premium versions are also downloadable, including many assignments, examples, demos, 3D models, and critique videos. It contains nearly everything you need to enhance your drawing skills.
What do Proko's Courses Offer the Beginner artist?
As mentioned, plenty of video content is classified into two types; premium and freemium. The freemium versions are available, whereas the premium content must be purchased. The free videos are shorter, giving you enough to make you have an interest.
A clip on a YouTube channel may introduce an important concept. Still, the premium course will contain a whole section devoted to further elaborating on that particular concept. The excellent tutorials are extended clips featuring 3D models, detailed lessons, and numerous examples.
When you purchase one specific drawing course, you can access its dashboard. You can now stream or download course resources according to your convenience.
There are numerous compelling reasons why these 'drawing videos work wonders for both beginner and experienced artists. First and foremost, each tutorial is carefully designed and thoroughly polished. The video content is better produced, articulately presented, and has a great tone than other online drawing videos.
The course incorporates graphics, animations, and models into his tutorials, allowing you to understand every lesson quickly. Each clip is set at 720p, making it great for viewing. Every chapter has at least one instructional video, which you can go through repeatedly while taking the course. And if you need help going through somewhat plain educational-oriented content. Stan boasts incredible humor, usually reflected in his drawing videos. This lightens the mood and makes learning a fun experience.
Figure Drawing Fundamentals:
It is always important to start by learning to draw figures in art. This is precisely what Stan offers in his figure drawing session. 
This course teaches you how to draw human figures of all body types in any position and light them from any perspective. It is a course in which many artists see a lot of growth and improvement. Click here to visit: The Figure Drawing Course.
You'll learn about the following:
Gesture: This is one of the essential concepts of figure drawing. If you didn't know, a gesture is the pose's motion, rhythm, flow, action, and posture. This course focuses on finding the lines of action, teaching artists to easily and promptly identify the main character of the pose.
Bean: The bean is just a simple representation of the torso, strikingly similar to the flour sack that nearly every animation student is aware of. In each body poses, the torso has a side that pinches and a side that stretches, and the bean is arguably the simplest way to represent this visually. In simple terms, the bean is the most effective tool for identifying and drawing the body's leaning, tilting, foreshortening, and twisting.
Structure: This section involves breaking the parts of the body into simple geometric forms such as cylinders, cubes, and spheres.
Landmarks: This section covers the bony protrusions that can be used to define proper relationships between the body's different parts.
Robo Bean: This section represents the body in boxes to help find its orientation. You can then use it to visualize the body in a 3D form.
Mannequinization: You begin giving your drawings the perspective and volume to help invent poses per your imagination. It is also important to mention that this section is where your drawings begin to look more like humans.
Critiques: This section critiques the work submitted by the student.
Balance: This part takes you through the body's center of gravity and how to represent this in your drawings.
Proportions: This breaks down the proportions of the human body and precisely explains the differences between Robert Beverly Hale, Dr. Richer Paul, and Loomi Andrew's proportional concepts.
Exaggeration: This section involves giving the drawn image more life.
Measuring: Here, you'll be taken through how to accurately and effectively use Dr. Richer Paul's scientific system of measuring an average person.
Prerequisites: This talks about the materials, how to sharpen your drawing pencil, and a general overview of the basic terminology involved.
Shading: This section is about adding more value to your forms.
The main objective of this particular course is to simplify figure drawing into its most basic components. Which you can then easily build upon and complete a fully rendered drawing. Those who have taken this course know that Stan tends to emphasize the gesture section, especially during the early stages of the course.
An excellent gesture drawing should capture the essence of the pose with the fewest marks possible. Even though this section is relatively more straightforward, sacrificing speed for precision is always recommended, particularly for beginners. It would help if you progressed through the lessons slowly, repeating the exercises until you mastered everything.
Standard features of the figure drawing course include extended lessons with in-depth videos covering lots of information about every topic. Premium course members will also get access to a couple of example drawings and real-time demos that will help them develop their skills.
Moreover, the course brings a spectrum of exercises to enhance your knowledge about the subject. After you finish the lesson, Stan will personally show you how to do the assignment. It is also important to note that premium students who follow along with new clips and submit assignments can feature in critique videos.
Portrait Drawing Fundamentals:
This course is divided into 18 different clips tailored to show you an effective way to draw the portrait from any possible angle. You will be shown how to draw the head per the Loomis principles of figure drawing. Of course, this is something you can learn yourself. However, as we told you before, Stan has a fantastic way of teaching, making your entire learning experience fun and enjoyable. Click Here to Visit Portrait Drawing Course
You'll also have access to moving 3D models that you can later use to practice from. For instance, you'll have a 3D model of Loomi's head at your disposal, which you'll be able to visualize continuously from any angle.
This will allow you to learn and understand how to draw the various planes of the head accurately and correctly from nearly any view.
And once you have mastered how to draw the head appropriately, you'll proceed to the anatomy of the eyes, lips, ears, and nose. All this information is available in separated sub-lessons for each facial feature. You will be taught how to draw these facial features through specific exercises.
The head is the most complex subject. It may be the part of the body we are all familiar with. What part of the body do you always look at when you talk to someone? Their face, especially the eyes.
The face is the most information-dense part of the body, so your eyes will be drawn to it naturally. Therefore, it is unsurprising that even those who don't have any knowledge about facial anatomy can quickly identify a poorly drawn portrait.
Those familiar with Stan's portrait drawing know that he usually starts with a simple lay-in and subsequently uses a sphere to represent the skull before adding the jawline and mask of the face. Stan then segments the face into thirds; nose to brow, chin to nose, and brow to hairline.
This provides the platform on which the nose, eyes, mouth, and hair can be easily added. Each of these sections is articulately presented individually in separate videos.
Most aspiring artists usually approach hair the wrong way. Stan will show you how to give hair volume in your drawings in this course. After a couple of trials and following Stan's instructions, you'll get some convincing results.
Many videos in the portrait course are freely available on the platform's YouTube channel. However, you'll get two full-length portrait drawing demos and 3D models when you purchase the premium version. The long-form models explain how to combine all concepts into a complete portrait drawing.
Anatomy Course:
This extensive course is separated into three sections: arms, torso, and legs. Even though no content covers bones or facial features, Stan covers the neck, muscles, and spinal cord. Click Here to Visit Anatomy for Artists
Every section is divided into subsections to help make the learning process more manageable. The first chapter is universal and covers anatomical terms and the various joint types. Regardless of your interest, you will have to learn about common types.
Stan starts by taking you through the deepest layers, including the tendons and bones, before gradually moving into surface muscles. For instance, under the arms lesson, you'll begin by learning all the bones found in the hand and arm. From there, you'll move deeper into the muscles, with each muscle having its subsection.
These muscle classes are extremely detailed because they are the form you will draw in the figure course. Every lesson features exercise to help you practice and fully understand one muscle group before progressing to the next level. Each new chapter focuses on one muscle or bone at a time. Below is a brief description of what you'll learn in the anatomy course:
Skeleton: In this chapter, you'll go through the skeleton structure, its joints, and associated landmarks to help you with proportions and drawing the body in motion.
Tracking muscles: The attachments (the origin and insertion) of muscles help you put the muscles in the right spot and draw the correct shapes.
Simple forms: In this section, you'll learn about the planar block forms, after which you'll know how to shade, make an accurate perspective, and make the muscles feel 3D.
Layering: You'll learn about muscle layering to help you accurately draw what everything looks like on the surface of a person.
Cross Sections: This chapter will help you visualize muscle layering.
Body types: After successfully going through this chapter, you'll know how to identify the type of character you are drawing. This dramatically increases both creative freedom and accuracy.
Idealization: Learn to remove those things that can potentially hurt your drawing, including those that may be missing, to improve it.
Function: The body is simply a machine, and knowing its function will allow you to understand its limitation. You'll equally learn how to draw the body in motion.
The anatomy course also brings on board several enticing features such as extended lessons, demos, examples, eBooks, assignments and answers, critique videos, and 3D models. The lessons offered in this course will go above and beyond your expectations. They are thorough, lengthy, and insightful. Suppose you are interested in this particular course. In that case, you can buy each section separately or all together at a discounted price.
Caricature Drawing Course:
As we previously stated, this course is not taught by Stan. Instead, Court Jones will take you through the entire section. The first part of the course covers the primary caricature concepts. Here, you'll use techniques such as abstraction and exaggeration to enhance a rough sketch and make it a fully designed caricature drawing. Click Here to Visit The Art of Caricature Course
The second part of the course focuses on building your caricature muscles. The exercises will help enhance the visual part of your memory and trick you into creating stronger exaggerations.
There are lessons on breaking bad habits, tackling mental roadblocks, and methods to figure out those difficult faces. You'll also learn something about digital painting. Like the previous courses, the caricature course comes jam-packed with amazing features such as extended lessons, critique clips, narrated demonstrations, and assignments.
The Cons of Using Proko for Aspiring Artists
So, how Much Do These Courses cost?
Figure Drawing pricing: The premium figure course includes more than fifteen hours of instruction, a full-length narrated drawing demo, and assignment examples.
Portrait drawing course: The course includes two narrated demos and 3D models and costs $59.
Anatomy course: The three-pack bundle costs $250. You may also choose to purchase each part separately for $99.
Caricature course: This section consists of two parts, each costing $99. You can also purchase the two parts combined for $170.
Is There a Refund Policy?
The platform offers a trial period of 30 days. During this time, you'll have access to various lessons, demos, assignments, and critiques to keep you grounded as you weigh your options. And if, in any case, you are not interested in the course and you choose not to continue, you are free to ask for a refund. You only need to email [email protected], and you'll get your money back.
So, Who Will Benefit From Taking this Drawing Course?
The most apparent reason you want to take an online art course is its convenience. After all, who has the time to attend a drawing class? With family and work commitments, creating enough time to explore your artistic and creative side is always challenging. Regardless, you still have to find time to do it; this is where an online art class proves handy.
The drawing course is recommended for nearly all types of artists out there. So, you are looking for an art course that will take you from basics to producing expert-quality illustrations. In that case, this course is your ultimate option. Every artist needs to spend time honing their skills to produce quality work. This particular course is designed to help you do just that!
Beginners will also find this course very helpful. The course content is generally geared toward amateur artists. All four courses are the best way to start how to become an artist. These clips break down complex ideas into a straightforward step-by-step exercise that anybody can practice. Stan has the skillset and history to prove he's a highly competent instructor. Moreover, his teaching style is so direct that you should always feel clear and confident.
Of course, it is imperative to note that any drawing course isn't a miracle worker! You will need to dedicate lots of your time and effort. Simply put, if you follow these lessons as Stan instructed and put in the work, you'll ultimately see drastic improvements!
Alternative Courses Worth Looking at:
Udemy Drawing Courses:
Udemy offers a broad range of relatively cheaper courses. Some of the courses offered by Udemy worth looking at include:
Ultimate drawing course – beginner to advanced: This fairly detailed drawing course is suitable for amateur and advanced artists. You'll learn the anatomy of the human eye and how to draw it perfectly. You'll also see how shadows and reflections are cast, how light reacts with the human eye, and how to break down objects into simpler shapes. 
You'll learn about perspective and how to use different shading techniques to add value and volume to your piece of art. Plus, how to create texture to add another level of realism to your artwork, and many other important things. This course will help you develop a robust, well-rounded set of essential skills as an artist. You'll study nearly every single aspect of drawing. This implies that the course is ideal for beginner artists and experienced individuals who need to sharpen their skills. In terms of price, this course costs $149.99.
The art and science of drawing/basic skills: If you are ready to start developing your art skills, this can be a great place to start. To become an established artist, you must have a solid foundation in the basics. This straightforward course is designed with beginners in mind. So, this should be your ultimate course if you have never grabbed a pencil and sketched anything. You'll be taken through the basics and develop a solid understanding of every step. However, it should be noted that this course is not ideal for advanced art students. It is meant for those who are just starting on their drawing journey. This course isn't suited for artists looking for fairly advanced drawing courses that cover a broader range of subjects. The price of this course is $19.99.
Skillshare Drawing Courses:
If you didn't know, Skillshare is an online education site where anybody can take classes on whatever topic they want. There are more than 20,000 classes on Skillshare. Click this link to visit Skillshare. However, we are only interested in some of them, but rather just those that can help us become great artists. Skillshare classes are relatively shorter and cover smaller topics as well.
The art classes on this site are mostly suited for beginners, with courses on oil painting, acrylic painting, drawing, and watercolor painting dominating. Other common lessons include designing a female character, pen and ink illustration, imaginative drawing, and character illustration.
In terms of pricing, Skillshare is currently one of the most affordable platforms, with a $16 monthly subscription fee. There is an annual subscription that costs $99. They also offer a generous two-month free trial period. However, I would not subscribe to the premium Skillshare art class membership. Instead, you should take these courses freely during the trial period. In two months, you can grasp as much information as you can.
The Bottom Line:
So, these drawing courses are head and shoulders above both Udemy and Skillshare and Pencil Kings Drawing courses. They are not only offered by a proven expert in the art industry, but Stan also presents all these excellent information videos. The content is laced with lots of humor, making it enjoyable. Though they are relatively expensive, the premium drawing courses are an excellent investment and honestly, they're great for beginners!