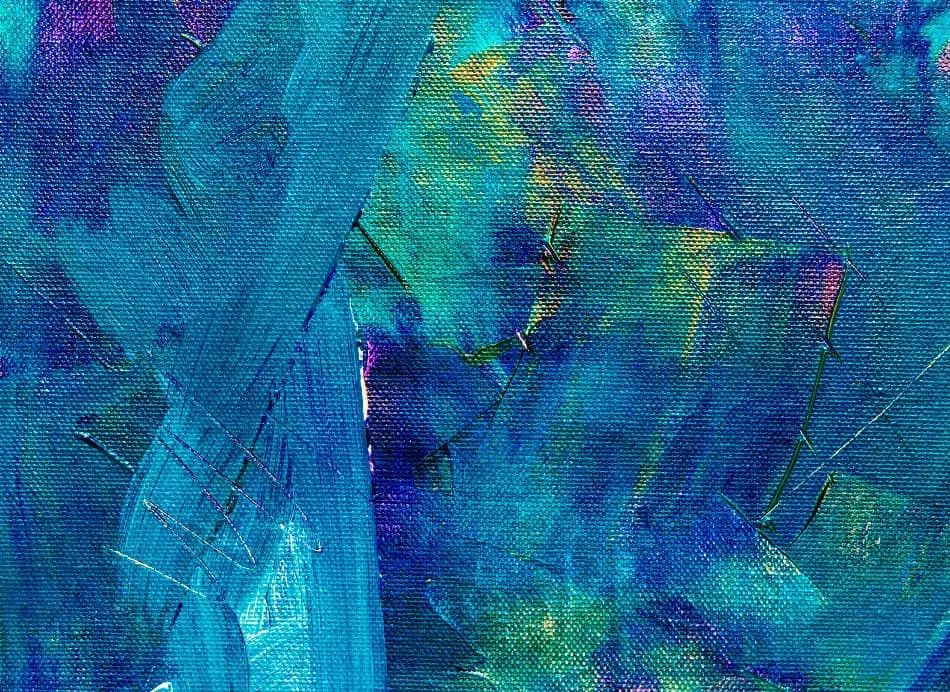 Many mixed media artists choose to combine materials, which, when first considered, may not be a logical choice. If you want to extend your understanding of drawing techniques that you can use in combination with acrylic paint. Then drawing on top of them is an excellent way to start. In fact, drawing on top of acrylics colors will provide you with some quite surprising results.
Drawing onto acrylic paint onto can be achieved in several ways. In fact, opaque and graduated acrylic washes are perfect for drawing on top using a combination of charcoal, pen, and white charcoal pencils.
In this post, I will outline several approaches to combining acrylic colors with various drawing materials. We have sourced a variety of artists, crafters, and art supply store managers for advice. Read on to find what techniques they prefer and employ to get the best from different materials. 
The techniques suggested and described in this post have been developed by artists who regularly use them in their work. Acrylic and drawing materials have very different qualities, and many varied results can be achieved when you try the combine them in your paintings.
.
Outlining Acrylic Shapes
The illustrator Jessie Unicorn Moore has tested many different approaches to illustration cupcakes and drawing. In her post, mixed media art ideas, she describes how drawing with pen over dried acrylic can be achieved.
Drawing over a graduated acrylic wash. One of the main characteristics of acrylic paint is that they are water-soluble but then convert to being resistant when they dry. 
This means that if you are looking to draw with a dark pen over a graduated wash, the lines and shapes will have more of an impact and stand out.
 Drawing with a marker pen. Drawing with a thick pen will also enable you to cover any irregular edges that may result from thick acrylic paint. The trick here is to use a pen with a thick, firm tip as this will make the task a lot more manageable.
Vibrant Background colors. One of the advantages of painting with acrylics is the color vibrancy you can achieve with them. This can be used to create exciting backdrops to the drawing you want to create. 
Play around with line quality. Jessie Moore likes to play around with the thickness and strength of lines that she draws within her illustrations.
The Advantages of Sealing an Acrylic Painting
According to acrylics pouring. 'Acrylic paints can dry somewhat matte and dull and often look disappointing when compared to how they shine when they are wet.' 
To resolve this issue, it is a good idea to seal your acrylic color once they have dried. If you want the colors in your work to have more of an impact, this is definitely worth considering.
Drawing Shapes on Acrylic Painting
The artist Lisa Clough offers a video demonstrating her ideas of drawing onto the paint. Lachri Fine Art uses white pencils as a means to draw upon and outline the shapes in her acrylic paintings.
White charcoal pencils excellent for drawing intense highlights that work well ontop toned paper. Lacks to dust of a chalk pencil. Sharpener using a craft knife as they have a tendency to break in a conventional pencil sharpener.
Tracing paper rolls are ideal if you want to produce larger scale canvases. Paper rolls also have the added advantage of being able to be cut to the size you wish to, which minimizes wastage.
Tracing paper to initial drawing the basic outlines of her composition using a white charcoal pencil. This enables her to create an accurate proportional drawing.
Lacchri Fine Art also suggests drawing with a white pencil to bring any new shapes onto the paint's surface once it has dried. 
These techniques allow the artist to develop her acrylic paintings in a methodical and organized manner.
Advantages of Drawing onto a Dry Surface
If you aim to draw onto an acrylic canvas, it is best to ensure that the surface is dry. As drawing onto damp paint will not work. The artist Robert Burridge produces nonrepresentational acrylic painting onto which he likes to use and a combination of the dry drawing medium. 'Enjoys bringing the energy of drawing into painting.' You can view this excellent video here.
When drawing with Charcoal, Robert Burridge applies a mixture of different charcoal varieties in his mixed media acrylic pieces. The primary being willow charcoal stick.
Once the willow stick has been applied over the surface of the acrylic painting. Charcoal can then be mingled onto the surface of the canvas utilizing your fingers.
Drawing intuitively to highlight the edges of areas of color. This creates depth and gives the appearance of a mixed media piece as opposed to traditional acrylic painting.
Graphite Pencils can also be utilized over the top of the canvas. Identify areas of color or particular features in the image. Again here, Burridge exercises and intuitive mark-making techniques to intensify the surface of the acrylic paint.
Additional Materials to Ultize all of these Techniques
Sources: