Once you have discovered how to draw a tree in pencil, you will want to try your hand at attempting more challenging techniques.  Learning how to draw a tree in pen and ink is a recommended choice for many inexperienced artists looking to advance their drawing skills.
Other Posts You May Like
How to Draw a Tree in Pen and Ink? The medium of pen and ink is well suited to the drawing of trees. As a  tool, it permits the artist to create powerful areas of contrast in their representations.
How to Draw a Tree in Pen and Ink: A Complete Guide
In this post, I will explain how to represent a tree while working pen and ink. I will also detail the numerous options accessible to artists in terms of tools, pens, and paper you can utilize to accomplish this task.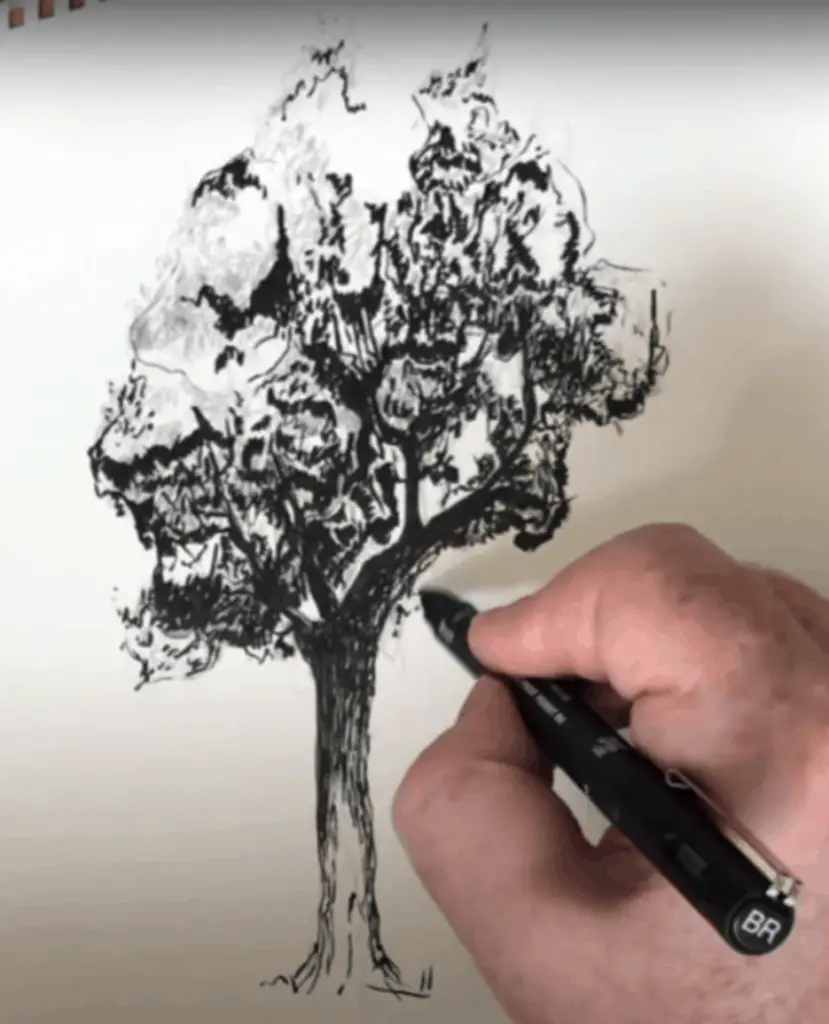 What is Pen and Ink?
Pen and ink materials tend to encompass a wide variety of materials, including, graphite pencils, paint brushes, drawing ink, and drawing pens.
Pen and ink are used to apply ink to the surface of your drawings, this includes using a pen, fine line pens, ink, nibs, paper towels, and fine line pens.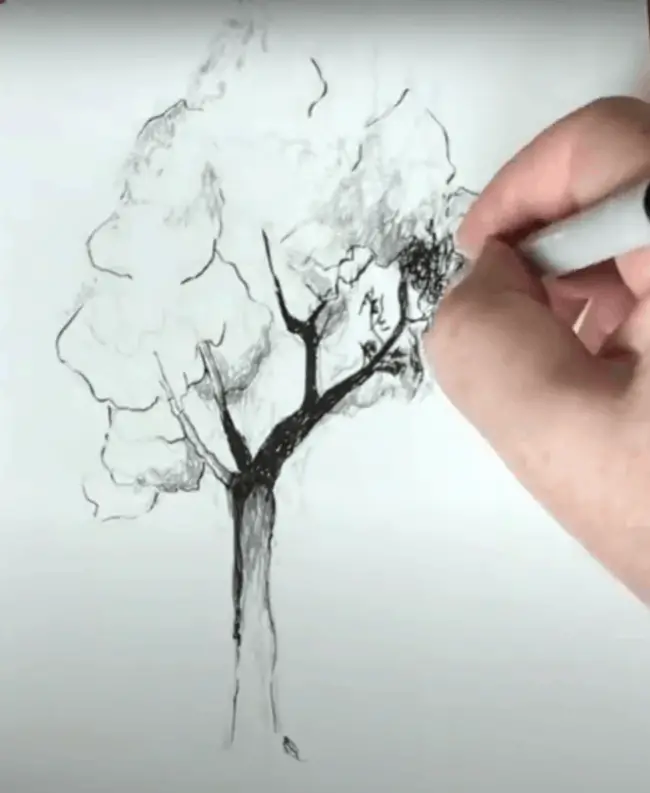 How are Pens Better Than Pencils for Drawing Trees With?
I believe pens are better for drawing and applying to shade with. They have numerous benefits, which include.
The marks pen produced with a pen will last longer.

Pens will never require tedious resharpening.

They will always provide you with a sharp point, that is until they run out.

Which is the Best Paper for Pen and Ink Drawing?
| | |
| --- | --- |
| Type | Characteristics |
| Mixed Media Paper | Thick graded paper tag which absorbs ink and water well. |
| Illustration Board | Provides a hard durable surface on which to apply the ink. |
| Drawing Sketchbook | Will provide you with a durable and smooth surface onto which you can apply the ink. |
| Bristol Board | Heavier than regular cartridge paper |
| Watercolor Paper | An excellent choice which absorbs ink and water well. |
How Should Hold a Pen when Drawing a Tree?
Here are some basic rules when drawing with a pen, some of them you may know already. Or alternatively, you may not be aware that you use them. However, it is useful to acknowledge and develop an awareness of correct and established methods of drawing.
Remember to relax and sit upright. If your not relaxed the tension will transmit itself into your drawings.

You will be able to create free-flowing energetic drawings if you relax your arm.

As well as relaxing your arm, draw from your arm, elbow, and shoulder.

It is also a piece of good advice to keep your wrist off the paper.

Four Ways to Hold a Pen when Drawing a Tree.

In addition to the above tips on holding a pencil. The following five ways of holding a pen or pencil will allow drawing a  wide variety of marks. You will definitely be able to achieve a higher level of variety and interest in your drawings.
Traditional Grip

Referred to as the

tripod grip

. Handling the pen using the thumb, index finger, and middle finger.

This grid can produce very tight controlled marks if the pen is held close to the top of the pen.

Or a reduction in control will occur if the pen is left to rest on the knuckle.

The Extended Tripod Grip

Comparable to the conventional grip here the pen or pencil is held upward and extended outward like a paintbrush.

'Tip Heavy' Overhand Grip

Holding the pen gently within the tips of all four fingers and the thumb on the opposing side. This is an unusual grip if you tried it before. The benefits of the overhand grip can certainly be employed when drawing standing on an easel.
---
Now that you have found something to draw on and have developed an understanding of different ways to hold the pen. You can use this simple easy to follow method to create a drawing of a tree in pen.
How to Draw a Tree in Pen and Ink
First, source the reference you want to draw. Is it a real tree or are you going to draw from a photograph?
There are many ways to draw trees, however, because we are drawing with pen begin by drawing a basic contour outline.

Don't add any detail at this stage, just draw the trunk. This can be done simply by drawing two simple lines.

The contoured outline of the tree can now be divided into smaller shapes which onto which the details of the leaves can be drawn.

Next, split or divide these sections into dark, mid, and light zones.

Using a fine line pen, you can now begin drawing irregular marks into the individual areas of the shapes.
Add Fine Detail Onto The Tree
The next step in representing a tree in pen comprises of adding detail and value. This will be achieved by making maks with your pen.

Around each individual shapes begin to loosely draw irregular lines, these will start to suggest leaves and the organic forms of the tree.

Wher, you can see deeper patches of value and shadow, strengthen and develop your marks in these areas.

Progressively, build up the tone and texture on the surface of the tree by repeating this process throughout your drawing.

Again to draw the branches of the trees. Use a fine line pen which will enable you to draw the branches in the gaps between the leaves.

Finally, draw the trunk of the tree. Add vertical lines to simulate the texture of the trunk and bark.

Again, render a  shadow on one side of the trunk by concentrating marks in these areas.

Finally, you can draw a faint horizon line which will provide your draw with some form of stability. Draw fine blades of glass to add realism.
Which Pens are Best for Drawing a Tree
Obviously, you are looking for a pen that will give you the quality of the line to produce precise and expressive drawings in ink.  Here are some other things that you may want to consider when choosing a pen. I have classified the following pens as perfect candidates for drawing a tree in pen.
Here Are Some of the Things To Look Out For in a Pen
Quality and Size of the Nip.

Lightfastness Rating.

Range of Available Colors.

Is the Pen Waterproof or Smudge-Proof?
Faber Castell FC167137 WalletPitt Pen Nibs Art Set, Assorted
Features
Limitations
The tips have a tendency to fray after prolonged use, which makes the drawing of fine lines more difficult.
Staedtler Pigment Liner Pen
Features
Fine 0.3mm pen tip, which is also accessible in other sizes. Check available sizes at Amazon.

Both Lightfast and Waterproof.

Color non-alcohol based ink.

Smudge-proof and excellent for creating a precise drawing.

Premium range of nips sizes, which are excellent for investigating different weights of line.

Suitable for drawing lines with rulers.

Lays down well with a dark line onto various materials such as watercolor.
Limitations
Long thin tip means it is limited to precise, beautiful line drawing, if not brought as part of a more extensive set.
Conclusion
I hope you have enjoyed reading this post and that you have found it useful and informative.